Chachapoyas from Jaen 4 days 3 nights
Tour package to Chachapoyas 4 days 3 nights from airport of Jaen, come and enjoy the wonders of this magical region. Pick up at the airport of Shumba Jaen and in five hours we will be in Chachapoyas to know the wonders of the Gocta Waterfall, the fortress of Kuelap with teleferic and all the magic that this place has for you.
4 Days/3 Nights
Moderate
Our staff will meet you at your arrival in the airport of Jaen.
Trip starts: Jaen airport
Trip ends: Jaen airport
All year (but best season april to december)
Join a scheduled departure or book a private or custom trip with dates to suit you.
Program details: Chachapoyas from Jaen 4 days 3 nights
Day 1: Reception at the airport - Transfer to Chachapoyas
Trip time: 4 hours approx.
Pick up at the Jaen airport and transfer to Chachapoyas.
Direct transfer in a group van, on the route we will enjoy an interesting landscape, we will cross the Marañón river, Bagua and Pedro Ruiz to finally reach the city of Chachapoyas.
Transfer to the hotel, installation and acclimatization day.
Time in car: 2h (go and back).
Time cable car: 20 minutes go y 20 minutes back.
Visit time: 3 hours approx.
After breakfast we will depart to the archeological site of Kuélap.
After about 45 minutes we will arrive at the archaeological zone of Macro observation and explanation of the housing built on the slope of a hill.
Then we will move to the town of Nuevo Tingo, to later go to the station of the cable car that will take us on a 20 minute trip along 4 kilometers and arrive at Malca Pampa,
Then walk about 20 minutes, to enter the Kuélap fortress; In this place a professional guide with extensive experience will explain the historical process of Kuelap.
During the 3 hours of the visit we will visit different places such as ceremonial precincts, the main temple, circular rooms, etc.
Return by cable car to Nuevo Tingo to have lunch and return to the city of Chachapoyas. Overnight.
Day 3: TOUR GOCTA WATERFALL.
Distance: 42 km (road)
Duration: 8 hours approx.
Breakfast at the hotel.
8:30 am approx. At the indicated time the transport will take us to the town of Cocachimba, distant 1 hour from Chachapoyas.
In Cocachimba after registering with the community we will start hiking for approximately two hours until we reach the waterfall of the mysterious Gocta Waterfall ( 771 meters high considered the third highest in the world)
We will arrive at the amphitheater of the Gocta Waterfall for the sighting, taking pictures, etc.
Then the return will also take us 2 hours of hiking to the town of Cocachimba, where we taste our typical lunch
In the afternoon return to the city of Chachapoyas. Overnight.
Day 4: Transfer Chachapoyas - Jaén.
Trip time Chachapoyas – Jaén: 04 hours (group van service). Pick up at your hotel. Direct transfer from Chachapoyas to Jaen
Arrival to Jaén / Transfer to the airport / Check in.
End of services.
What's included?
Services included in the prices:
All transfer from Jaen to Chachapoyas and viceverse.
03 nights of hotel in Chachapoyas
All breakfast at the hotel.
Lunchs x 2 days of tour
2 days tours (group service).
Entrance tickets to all places to visit.
Profesional tourism guide.
Permanent assistance and advice in Chachapoyas
Not included:
Flights from Lima to Jaen and return (please ask us for extra costs)
Drinks in general and food not described in the program (dinners)
Excursions and unscheduled accommodations.
Horses for excursions (you can rent directly from the communities).
Tips and extras.
Prices according to number of people and number of days Please contact us for more information.
Price x person:
precio por persona
From: $ 150 (minimum 2 people)
Booking conditions:
Prices valid for normal season (group tours). These could vary on holidays and long weekends (Holy Week, Raymi Llaqta, National Holidays and Patron Saint Holidays).
If you book in advance, you can access special prices and above all a fully planned trip.
To confirm your reservation you must deposit 50% of the total price, and the remaining 50% will be paid when you arrive in Chachapoyas.
Dear visitors, our company is available to provide you with all the detailed information that you request, we will respond as soon as possible, as we have an expert advisor always available.
Our package rates may change according to the anticipation of your reservation or the number of participants, please contact us for more information.
Recommendations:
The flights from Lima to Jaen should be on the morning shift, so that you arrive early at Chachapoyas and still take the opportunity to get to know the city and to enjoy its typical streets, but don't worry if you fly is in the afternoon because pickups are made at any flight time.
If you are already in Jaen from the day before, please let us know in which hotel you will be to coordinate your pick up.
The program here on the website is 4 days 3 nights, but if you wish to extend your stay in Chachapoyas, please request our programs of 5 days or 6 days.
In the prices that I will send you, almost everything is included, only dinners are not included. For dinner there are a variety of restaurants of all types in the city of Chachapoyas, we recommend the ones near the Plaza de Armas.
The visit to all the tourist sites in Chachapoyas is done on foot, for which it is recommended to bring slip-resistant floor slippers and bottles with water to stay hydrated. It is important to wear waterproof jackets and waterproof ponchos for rainy moments, which happens suddenly.
The climate in Chachapoyas is warm and temperate. In the nights and early mornings the weather is cold, while in the mornings and afternoons the weather is a bit warm.
The best season to visit Chachapoyas is between July to September, since the temperatures are warmer, although occasionally there are days where it rains in quantity.
Keep in mind that Chachapoyas is not jungle, therefore take precautions against any altitude sickness. The maximum height during the tours is over 3000 meters (Kuelap Fortress).
Information for a better experience in Chachapoyas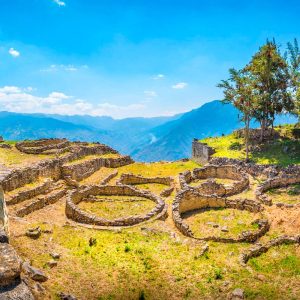 For an even more complete experience you should know the following information before traveling to Chachapoyas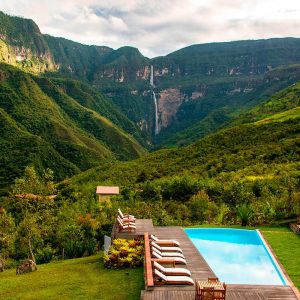 How to get to Chachapoyas?
It is important to know which is the best way to get to the city of Chachapoyas. Is it only possible by flight? o Is it also possible by land?