Here our all-inclusive package at Muyuna Amazon Lodge, shares 100% natural experiences in the Amazon River, a perfect combination of green nature and wildlife in the lush Peruvian jungle of Iquitos. During each day of the tour you can enjoy magnificent experiences within the jungle; like bird watching, wild animals, fishing in the Amazon river or just relaxing in our most complete boungalows surrounded by pure nature.
Muyuna Amazon Lodge shows the world a sustainable approach to responsible and conscious tourism. Many travelers have been caught by the legend of Muyuna, returning more than once to where it all began.
The Lodge is located 140 km from Iquitos. Muyuna can be visited at any time of the year. And it is not that one era is better than the other, but that they are different. We can do many different activities, but animals can always be seen.
Program details: Muyuna Amazon Lodge 4 days 3 nights
Day 1: Reception at the airport or hotel in Iquitos - Transfer to Muyuna Lodge.
Travel time: 4 hours approx.
Transfer by land from your hotel or the airport.
9:30am we depart by river to the lodge. Lunch at the Muyuna Lodge.
Jungle excursion to observe the enormous variety of flora. Observation of the leoncito (pygmy monkey). Sunset on the lagoon.
Dinner at the lodge.
Nocturnal excursion by boat to see caimans and nocturnal birds and mammals.
Day 2: Full day experience.
Breakfast at the lodge
Boat trip to Sapote lagoon looking at birds; then to Moena Lagoon where you will see sloths and monkeys. Lunch at the Muyuna Lodge.
Piranha fishing in the Corriente and Purura Lagoons (Optional). Observation of the hoatzin or shansho, prehistoric bird. Dinner
Night walk in search of huge tarantulas and frogs.
Day 3: Full day experience.
Time by car: 3h (go and back).
Breakfast at the Muyuna Lodge
Walk to the Amazon River to swim where the pink and gray dolphins live. Observation of the Victoria Regia, the largest aquatic plant in the world. Observation of iguanas. Lunch.
At teh afternoon canoe excursion through Caño to look for the aullador monkey. Visit to the town of San Juan de Yanayacu. Dinner.
Canoe excursion, to listen to the jungle at night.
Day 4: Morning experience and transfer to Iquitos.
Breakfast at the lodge
Boat excursion to Laguna Casha, lagoon of difficult access. Here you will walk or paddle depending on the level of the river, looking at different species of birds and monkeys.
Lunch and then transfer to Iquitos.
Land transfer to hotel or airport.
What's included?
Services included in the prices:
Taxes.
Transfer from Iquitos Airport to the port or hotel in Iquitos.
Sailing from Iquitos to Muyuna Lodge
Aluminum bottle
Boots for the rain
Free Wi-Fi in Iquitos office
Buffet meals
Drinking water
Coffee, tea and fruit station
Accommodation: cottage with private bathroom and terrace with hammock facing the river or the jungle
Electric charge for camera battery, laptops, etc.
Nature guides in Spanish or English
Visit authentic communities
Night and day excursions - by boat or walking
Lifejacket
Bath towel and towel for the river
Use of free kayaks, canoes, and paddle
Document of animals that have been seen in the area of Muyuna.
First aid kit which includes antivenom serum
Table games
In empty season, ping pong and volleyball
Biodegradable amenities (shampoo, conditioner and liquid soap).
Not included:
Tips for guides and staff members. (Optional)
Poncho for rain (Sold in Muyuna)
Extra costs unrelated to what is included in the activities of Muyuna (Souvenirs)
Alcoholic beverages
Extra boat in case of being outside the established schedule.
Prices according to number of people and number of days Please contact us for more information.
Price x person:
| | | | |
| --- | --- | --- | --- |
| # people | 1 | 2 - 10 | 11+ |
| 3 days/2 nights | USD 530 | USD 440 | USD 430 |
| 4 days/3 nights | USD 670 | USD 555 | USD 550 |
| 5 days/4 nights | USD 800 | USD 665 | USD 660 |
Booking conditions:
Children from 3 to 11 years: 50% discount (it is important to scan the identity document), Children from 12 years apply adult price. It is necessary to add private guide to families with children (Consult additional cost).
The fixed itinerary of our boats that are included in the package cost are: (Iquitos - Muyuna leaving at 9:30 am and Muyuna - Iquitos arriving in the city at 4:00 pm.). Take note that, to begin the tour, passengers must be in Iquitos before 9:00 a.m. and for the last day of the tour, the flight to Lima must be after 6:00 p.m.
FAQs?
What is the best season to visit Muyuna?
Muyuna can be visited all year round. The only thing which changes is the level of the water. Each period has its charm. During the low-water season, you can walk a lot more and there are less mosquitos. Where we walk in the low-water season, we use canoes at a few meters from the canopy of the trees. Then, it is possible to see more flowers.

What is the most dangerous thing that could happen?
Being bitten by a serpent. This is why we provide rubber boots. Since we began in 1999, no traveler has been bitten, and if it does come to pass, we have snake anti-venom and our own boats to transfer you immediately to Iquitos. We have expert guides who know what to do in case something unpredicted happens, as well as having on hand any and all necessary equipment for emergencies, such as tools for the boat, water, first aid kit, etc.

What differentiates Muyuna from other lodges?
It is easier to go with the flow. This is why the population of Iquitos grows downriver. Those lodges which are situated down river, and near to the city, have fewer possibilities to guarantee seeing animals in their natural habitats; which is why they have recourse to visit places such as Monkey Island, and the Serpentarium to see animals.
They also go on tours to visit the touristic tribes, shamans´ houses and artisanal liquor factories. There are also high-end resorts with swimming pools and some with air-conditioning. Muyuna goes on more guided-excursions focused on seeing animals in their natural habitat with a 100% guarantee of seeing them; our being located upriver and on the Yanayacu River where there is almost no human presence.

Are there cases of Yellow Fever o Malaria in the Lodge?
No, in the area where we are located, there is no yellow fever, dengue, Malaria or Zika. Also, no cases of this disease have been seen in years, so no vaccination card is requested at any airport in Peru.
What to bring?:
Swimsuit, long-sleeved shirts / polo shirts (light colors to avoid mosquitoes)
Short sleeve shirts for boat / village rides
Fresh pajamas, comfortable shorts
Baggy long pants (not leggings type) because mosquitoes can pass them
Sandals, sneakers for boating (various changes of clothes due to moisture, especially underwear such as socks for boots)
Sunglasses, repellent, necessary for walks. sun block (we recommend a natural ibre paraben).
Flashlight per person, rain ponchos. (at Muyuna Lodge we sell)
A good book. We recommend EL SUEÑO DEL CELTA or EL HABLADOR by Mario Vargas Llosa, our literature Nobel.
Binoculars (8x42), small backpack to carry repellent, water, etc. during excursions hat that gives a lot of shade.
Photo / video camera, toothbrush and toothpaste / shaver (if it is electric that is previously charged)
Cloth bag for dirty clothes
Cash (soles) for purchases in town, tips and consumption of the bar..

As space in Muyuna is limited, bring only the necessary luggage for the jungle. The extra luggage will be left at the Muyuna office in Iquitos at no additional charge.
Information for a better experience in the Perú's jungle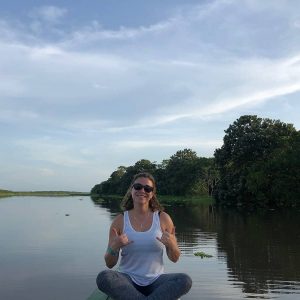 For an even more complete experience you should know the following information before traveling to the Peruvian jungle.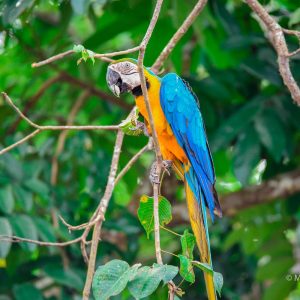 How to get to Iquitos?
It is important to know which is the best way to get to the city of Iquitos. Is it only possible by flight? o Is it also possible by land?