Cusco Machupichu and Trekking Huayhuash 2022
Cultural and adventure travesia in the Andes south of Peru, enjoy the magnificent beauty of Lake Titicaca Machupicchu Cusco and finally trekking Cordillera Huayhuash
This south Peru and trekking Cordillera Huayhuash package tour is a great way to get there and experience southern Peru's beautiful highland landscapes, villages and wildlife; of course, enjoy spectacular views of Colca Valley, lake Titicaca, Sacred Valley and Machupicchu. Enjoy the magnificent beauty of Cordillera Huayhuash at the end of your travel.
Non escorted tour: All tours, hotels, transfers, transport & domestic flights are booked but you do not have a tour guide in the evenings, leisure hours etc. All tours are with English speaking guide and joined with other tourists.
Program details: Peru southern and trekking Huayhuash
Day 01: Arrival to Arequipa – City Tour & Santa Catalina Monastery.
Duration: 5 hours
Upon arrival you will be picked up and transferred to your hotel where you can relax before your City tour. Next you will meet your guide at your hotel for your Arequipa tour. During the tour you will visit San Ignacio Chapel, known as the Sistine Chapel of Peru for its ornate decoration. You'll also swing by the Plaza de Armas, where the neo-classical Cathedral stands on one corner, as well as explore the Santa Catalina Monastery, a convent that once housed 500 nuns and other residents. The tour will end at one of two famous miradores (lookout points), Mirador de Yanahuara or Carmen Alto, where you can appreciate views of the city framed by the towering Misti Volcano.
Spend the evening at your leisure, but don't call it a night before sampling one or two of the delicious local dishes that have made Arequipa a top culinary destination in Peru.
Day 02: Arequipa to Colca Valley with overnight.
Duration: 7to 8 hours approx.
After the 7:30AM hotel pickup you will make your way 160km across the Chivay town. Early into the tour you will feast your eyes on the magnificent views of the volcanoes Misti, Chachani and Pichu Pichu as you draw near National Reserve of "Pampa Cañahuas". Upon reaching the reserve you can witness the wild Vicuñas in its natural habitat. From there we move on to Pata wasi (3800m) where you will take pleasure in the natural rock formations with the Misti and Chachani volcanoes on your rear. We will ascend further to a mountainous and splendid 4500m height, passing "Tocra" on the way. You can take in the beauty of beautiful lakes in the area, and take pictures of "Altiplano", which is the world's largest high plateau area, behind Tibetan plateau. The "highlight" of the tour will be "Pata Pampa" where you will stand at 4820m. Approaching the Chivay town (3651m), you will be amazed at Colca valley's multicolored terraces. You can enjoy your lunch in or around your hotel in Chivay. Optional hike at 3:30pm; after driving to Coporaque town we will visit the traditional main square and if you like, hike up to San Antonio ruins. In addition to seeing a cemetery here you can also enjoy the spectacular Canyon terrace views. You can then relax at your hotel in late afternoon. If you're in the mood, you can also go to La Calera and see the thermal springs there. Overnight at the Hotel in Colca Valley.
Day 03: Cruz del Condor - trip by bus to Puno.
Duration: 9 hours approx
The second day starts with an early breakfast. After that we will drive to Cross of the Condor where you can see these large (largest in western hemisphere) flying birds. Then we will move on to visit Colca Valley in Cruz del Cóndor. This is the second deepest canyon on earth (4km at deepest point).
After this valley you can see the astounding spectacle of the flying condors. The journey back to Chivay will then begin, seeing the town of Pinchollo along the way as well as the "Antahuilque viewpoint" to view a marvelous terrace built 1500 years ago by the Collaguas civilization and then the town of Maca to visit its charming handicraft market and Colonial church. The last part of the day is the drive to Puno. Accommodations for the night in Puno.
Day 04. Lake Titicaca and the floating Uros and Taquile islands.
Today will be a full day excursion on Lake Titicaca, the world's highest navigable lake at 3808 m, and you will visit its main attraction: the floating Uros Islands, which lay just 6 km off the Puno Bay. 35 minutes from these is Taquile Island, where the community will, after giving you a traditional welcome, show you their customs, like their traditional and colorful outfits, and teach you what the knitted patterns mean. From this spot, the views become even better. The color of the lake turns a deeper blue, and the setting takes on an even more special mood.
Accommodations for the night in Puno.
Day 05: Puno to Cusco – with stops La Raya, Raqchi, and Andahuaylillas.
You will be taken to the bus station, where you will begin your trip to the city of Cusco. A vacation in Peru would be incomplete without a few days in this historic place. There is a scheduled stop at the La Raya Pass, the natural border between the departments of Cusco and Puno, which is a prime location for taking impressive photos. Afterwards, you will tour the Incan archeological site of Raqchi, renowned for its massive temple to the god Viracocha. Next on the itinerary is a stop at the village of Andahuaylillas, where you will see an actual architectural masterpiece: its main church, built in the 17th century, whose finely painted interior walls will astound you.
Accommodation in Cusco.
Day 06: Cusco city tour visit to Sacsayhuaman and nearby archeological sites.
You will tour the city today and enjoy the amazing Colonial center, an inheritance from its Andean and Hispanic past as well as an UNESCO World Cultural Heritage Site. Two of the city's famous landmarks are on the schedule, as well: the Korikancha, or "Temple of the Sun, and the Cathedral, home to finely carved wooden art pieces and impressive altars. The tour continues to Sacsayhuaman, an Incan fort constructed from menhirs that guarded the Imperial city. There are three other important archeological sites, not far at all from the city, that you will visit: Qenko, Tambomachay, and Puca Pucara.
Accommodations in Cuzco.
Day 07: Free day. Explore the city on your own!.
Enjoy an afternoon off in Cuzco. Relax, look around, and admire what you see.
Accommodations in Cuzco.
Day 08: Sacred valley full day tour - train to Aguas Calientes.
Discover the best of the Sacred Valley of the Incas through this route starting on the Inca's Balcony, in Chinchero, a beautiful place with an impressive view, where twelves families still preserve their traditional costums, showing you the ancestral way in which they process the wool, and obtain those vivid colors for their textiles. Afterwards, we will get to Ollantaytambo, one of the most monumental architectural complexes of the ancient Inca Empire, one of the few places where the Spanish conquistadors lost a major battle. Very well known for its "andenes" (terraces dug into the slopes of mountains for agricultural purposes), Ollantaytambo was a highly effective fortress, that also served as a temple. Then, we will follow to the town of Ollantaytambo, "the unique living Inca town": the best surviving example of Inca city planning, with narrow cobblestone streets that have been continuously inhabited since the 13th century.
At afternoon train to Machupicchu town. Accommodations in Aguas Calientes.
Day 09: Machupicchu tour, Lost City of the Incas.
Spend the day at Machu Picchu – The lush forest straddles the mountains and surrounds the plateau. The stone walkway carries you from the entrance, through the winding staircase and walls and into the open highland of Machu Picchu. Once you are within the ruins, follow your guide on a fabulous tour of the lost Incan city. The plateau is clear of brush. The stones sparkle in the late morning sun. The musk of fresh rainfall and wet stone emanates from the city. The peak of Huayna Picchu casts a friendly shadow over the ruins. The Temple of the Three Windows sits at the top of a glowing slope with three windows overlooking the landscape beyond. The boulders have been cut and pushed together, remaining intact over centuries. Clouds drift barely overhead. You can almost touch the sun and return to Cusco, but for the moment you can see how the world spins below and the wonders of Peru never cease to amaze you.
Day 10: Flight to Lima. Conection with bus to Huaraz.
At the scheduled time, you will be transferred to the airport for your flight to Lima and then transfer to bus terminal to Huaraz. Trip following the Pan-American Highway, your trip takes you through several lush green valleys, cutting through the coastal desert, before reaching the town of Pativilca. Turning inland, the main road winds up to Conococha pass (13,120 ft), where you'll experience the first breathtaking glimpse of the Cordillera Blanca. Arrive in Huaraz where you'll be spending the night in a hotel.
Day 11: Huaraz - Cuartelhuain (4300 m).
Duration: 4 hours (by car) 4 – 5 hours (hiking)
We drive from Huaraz to Chiquián, enjoying distant views of the awesome Huayhuash range from afar.
From Chiquián we descend to a cactus and scrub environment and continue to the village of Llamac (3300m)
Then into a wide Ushaped grassy valley with rolling hills and flanked by broad expanses of quenual (polylepis sp.) forest.
We will camp at QuartelHuain (4200m)
Day 12: Cuartelhuain – Cacanan Pass (4700m/15416ft) – Mitucocha.
Duration: 5 hours aprox
Distance: 12 km aprox
This morning we cross our first pass, Cacanan Punta (4700m).
Here, at the continental divide, we sometimes observe the Andean Condor flying overhead.
We descend to the Jalca plain and on to our camp at the beautiful Laguna Mitucocha lake (4220m), located at the foot of the stunning Jirishanka Grande peak, and those of its neighbours Rondoy and Ninashanca.
If you have the energy, there's the option this afternoon of walking around the lake or up to one of the nearby hanging valleys.
Day 13: Mitucocha – Carhuac Pass (4500m/14760ft) – Carhuacocha.
Duration: 5 -6 hours aprox
Distance: 12 km aprox
We flank the Jalca floodplain then ascend south to the Paso de Carhuac pass (4650m).
From here an awesome panorama suddenly comes into view; a row of Huayhuash giants: Yerupajá Grande, the second highest mountain in Peru, Yerupajá Chico(6121m) and Siulá Grande (6344m), of "Touching the Void" fame.
From here we descend to our camp at the large Lake Carhuacocha lake (4150m), with the chance en route of spotting Viscacha rodents among the moronic debris.
From our camp we look directly up the lake to the peaks and ice fields of the famous Siula Grande, Yerupajá Grande and Chico and Jirishanka Chico.
Day 14: Carhuacocha – Siula Pass (4850m/15908ft) – Huayhuash.
Duration: 6 – 7 hours aprox
Distance: 13 km aprox
This day there are two optional approaches to our next camp at Huayhuash.
We can take the normal trail to ascend the Carnicero Pass at 4600m/15,092ft
Or the more challenging alternative by ascending the Siula Pass at 4800m/15,748ft.
While this second alternative is more demanding, it is truly rewarding because of the surrounding panoramic views.
We descend passing close to lake Carnicero then camp at Huayhuash 4300m/14,108ft.
Day 15: Huayhuash – Portachuelo Pass – Viconga.
Duration: 6 hours aprox
Distance: 11 km aprox
We climb to the Portachuelo de Huayhuash pass (4750m) on a steady gradient.
From here, looking southeast, we see a new collection of nearby snow peaks; this is the Cordillera Raura range and the nearby snow peak of Leon Huacanan.
We descend to and skirt around the large Laguna Viconga lake – look out for Alpacas – before walking up the valley for ½ hour to set up camp (4480m).
There are some, al fresco open air hot springs near Viconga, so a hot bath could certainly be appreciated!
Day 16: Viconga – Cuyoc Pass – Huanacpatay.
Duration: 5 – 6 hours
Distance: 10 km aprox.
Today we will cross our highest pass, Punta Cuyoc, with a sustained uphill hike of 2 to 3 hours to a breathtaking 5000m.
The panoramas here are breathtaking: to the southeast we see the sharply serrated ridge of the Cordillera Raura, and to the north, several of the giants of the Huayhuash range are seen from a new perspective.
Mountain Sarapo (6127m) is also seen for the first time.
The initial 50m of the descent is quite steep and loose, becoming easier as we continue descending quickly to the broad Quebrada Huanacpatay valley.
We then have a relaxing and easy hike down the valley to our camp in Huanacpatay
Day 17: Huancapatay – San Antonio Pass – Cutatambo (4400m / 14432ft)
Duration: 5 – 6 hours
Distance: 10 km aprox.
From camp we climb to a pass on Cerro San Antonio.
This is a demanding day with some steep hiking, but by now you should be well acclimatised and feeling strong at altitude.
After 2 hours we are on the top of the pass at 4800m, with fantastic views of all the giants of the Cordillera Huayhuash and the 3 lakes of Sarapococha, Santa Rosa & Jurau.
We can also see the Siula Glacier which Joe Simpson crawled down in his epic battle for survival, and we see Siula Base Camp quite clearly in the distance.
The descent is initially steep, but safe, on scree for around 100m.
We then follow a cattle trail winding down to Lake Jaurau and finally to our camp in the Quebrada Calinca at Cutatambo (4100m).
Day 18: Cutatambo – Huayllapa – Huatiac
Duration: 7 hours aprox
Distance: 15 km aprox.
We walk back down the Quebrada Calinca valley, which becomes the agricultural Quebrada Huayllapa valley (the first sign of crops for over a week).
We continue until, just before the tiny village of Huayllapa 3600m (the first village since Llamac and last before we return to Llamac)
After a little break in Huayllapa we begin a hard climb in the afternoon of about 2 to 2½ hours to our campsite high up on the flat pasture of Huatiac (4350m).
Day 19: Huatiac – Yaucha Pass (4800m/15744ft) – Jahuacocha
Duration: 7 hours aprox
Distance: 16 km aprox.
Today we will cross two passes. Initially we hike up the trail to reach the first pass Punta Tapush at 4750m/15,584ft.
Then make a short descent before again starting our next climb up to reach the second pass of Punta Yaucha at 4800m/15,748ft.
It is certainly a challenging experience to reach the second pass as you ascend up on a switch back trail which is rocky in areas as we approach and reach the Yaucha Pass.
The efforts to reach this dramatic vantage point are well worth it for the magnificent views of the surrounding high peaks are truly impressive.
We descend down through lupines along the valley to our final camp at Jahuacocha Lake at 4150m/13,615ft.
We'll camp overnight beside the lake enjoying the views of the majestic mountains surrounding Jahuacocha Lake.
Day 20: Optional extra day at Jahuacocha camp.
Duration: 5 – 6 hours
Distance: 10 km aprox.
We stay at Jahuacocha. Rest Day and maybe try trout fishing? We can take an optional day hike up to Laguna Solteracocha (4120m) and then further to Sambuya Pass at the base of Rondoy Mountain (4750m). Or if you want a demanding hike we can climb up Cerro Amarrillo Peak 5000m for views over the whole Huayhuash range and down into Quartelhuain where we were the first day of trekking. This is a tough day hike and on the top you walk along an exposed ridge for a short way, and there is a short part of the descent on shingle scree but it is worth the effort for the breathtaking views.
Day 21: Jahuacocha – Lamac – Huaraz
Duration: 4 hours (hiking) 4 hours (by transport)
After an early start and gentle descent for an hour, we start our gradual climb to the final pass, Pampa Llamac (4300m).
From here we have our final views of much of the Huayhuash range.
Then it is a long descent back to the Llamac valley and the village of Llamac.
In Llamac the bus will be waiting to take us back to Huaraz and your hotel for that long-awaited hot shower!!
We arrive in Huaraz at about 16:00 hours.
Day 22: Lima - by bus to Lima.
This morning's bus ride returns you to Lima. You'll arrive in the late afternoon and be transferred to your hotel or airport, depending of your flight ticket to home. End of the services.
What's included?
Services included in the prices:
Professional tour guide in English.
Entrance to all the attractions to visit Machu Picchu and Huanapicchu, Sacred Valley, City tour and surrounding areas, churches and museums.
All indicated pick-ups and transfers in group service with English-speaking guide
Domestic flights (Lima to Arequipa and Cusco to Lima)
11 nights hotel (Arequipa, Chivay, Puno, Cusco, Machupicchu city, Huaraz)
Breakfasts at all hotels.
Tourist bus Puno – Cusco
Standard train round-trip tickets
All entrance fees
In the Cordillera Huayhuash trek includes:
Private transport from/to your hotel.
Professional, English speaking guide in trek.
Professional outdoor cook, 3 healthy meals a day plus snacks during the wilderness components of the trip.
All entrance fees.
All camping & cooking equipment (except sleeping bag).
Donkeys
Cook tent, eating tent, tables, chairs, and toilet tent
First aid kit & oxigen bottle.
Not included:
International flights to/from Lima and applicable airport taxes
Lunches or dinners (unless otherwise specified)
Additional expenses, such as laundry, telephone calls, snacks, etc.
Travel insurance.
Bear in mind:
Unaccompanied package: This package are without accompanying guide: in the evenings and free time, you need to be a bit independent, choose your restaurants, clearing the bill etc. All tours are with English guidance so a good understanding of English is a requirement. Knowing how to say "hello" and "thank you" in Spanish would also be nice. A travel guide (book) will be necessary for background information, restaurants etc..
Full service from Arequipa Airport to Lima Airport. The day of arrival in Peru or the next day we have a briefing to clarify any doubts that may exist, deliver our travel map with vouchers, tickets, etc.
This is an example itinerary only and can be tailored to your individual needs. We can add segments and most packs can be made slightly shorter as well. Please, for any question, contact us with total confidence.
Group departure price:
Price US $ dollars per person
From: US $ --
Prices valid for normal influx season (group tours). These could vary on holidays and festivities (Holy Week, Independence Day of Peru).
If you book in advance, you can access special prices and above all a fully planned trip.
You confirm your trip with the payment of 80% of the total and the rest when you arrive in Peru.
Dear visitors, our company is available to provide you with all the detailed information that you request, we will respond as soon as possible, as we have an expert advisor always available.
Our rates could be special according to the anticipation of your reservation or the number of participants, please contact us for more information.
HOW TO BOOK?
To start the procedures of your reservation, please, we need you to send us the following information:
Full names:
N° of your passport and expiration date:
Nationality:
Date of birth:
Phone and email:
It is very important your information about your flight schedule, to be able to pick it up at the time of your arrival.
To confirm reservations, 50% of the payment is required in advance and the other 50% can be paid upon arrival in Peru.
We have 4 payment options for you to make the deposit:
Paymet with card: We accept all VISA or MASTERCARD credit or debit cards through a link that we will send to your email or WhatsApp, the surcharge by this means is an additional 4.5% (SSL secure system).
Payment via transfer: Our business acount:
International Interbank Deposit
Swift code: BINPPEPL
Banco Internacional del Peru (INTERBANK)
Address: Street Huaylas # 250, Independencia
City: Huaraz Country: Peru
Beneficiary: Romer Alfredo Yauri Camones
Account: 622-312347213-3
IBAN code: 003-622-013123472133-83
(If you transfer from your bank to our bank in Peru, you must add the international transfer charge of the issuing and receiving bank, consult your bank about the additional amount that will be charged).
Payment via Western Union:
Western Union o Money Gram:
Names: ROMER ALFREDO
Surnames: YAURI CAMONES
DNI: 42377569
Adress: Jr. Huaylas Nº 250 – Independencia - Huaraz
Phone:+51 969 005 051
(If you transfer from your bank to our bank in Peru, you must add the international transfer charge of the issuing and receiving bank, consult your bank about the additional amount that will be charged).
Payment via PAYPAL: We generate a payment order and send it to your email; if you accept this option you will have a surcharge of 7%.
¡We are at your service!
What to know?
This package is suitable for those who want to combine magnificent cultural experiences in the south of Peru and end up trekking in the Cordillera Huayhuash.
The services start from your arrival in Arequipa or Lima, we will pick you up at the airport.
The clothing to bring is according to the season and the activity to be carried out. The sunny months or dry season is from mid-April to October, the days are intensely sunny and the temperature reaches approx. 20°C. but at night it drops abruptly to 5 or 2°C approx. It is recommended to bring light clothing or long sleeves for the day and warm clothes for the nights.
During the rainy season (November to April), it is advisable to bring waterproof clothing and shoes that resist water and cold.
If you plan to develop other activities in the mountains, such as hiking, camping, trekking, cycling, etc. It is recommended to wear the appropriate clothing and/or equipment.
Information for a better experience in Peru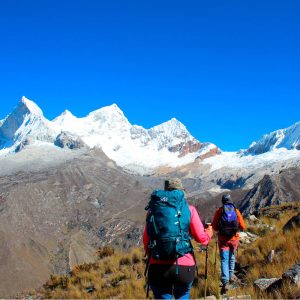 For an even more complete experience you should take into account the following information before traveling to Peru.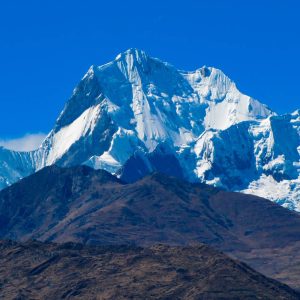 Altitude sickness in Perú? Travel tips
It is important to know what precautions to take before traveling to the Andes of Peru, also because of its geography, Soroche is a possibility.