Laguna Paron is located in a valley of the same name on the east side of the city of Caraz in the Cordillera Blanca, which is accessed by a dirt road (trail type) is an excellent point to observe the most important pyramidal mountains of the Cordillera Blanca .
Within this valley is the lake, a peaceful and strategic place from where you can get excellent views of the mountains such as Artesonraju (Paramount Pictures logo), Pirámide Garcilazo, Caraz.
Full day tour to Laguna Paron located within the Huascarán National Park is a magnificent circuit for a day of nature and mountains in the Peruvian Andes.
Program details: Full day tour Laguna Parón
Itinerario:
Huaraz - Caraz - Paron's valley - Hiking around - back to Huaraz
Duration: 7 hours (by car two ways) 2 or 3  hours (to stay on the lake)
Drive North to Caraz town, then drive up pver the dirt road to the refugio near lake Paron is impressive because of the high and very steep, often vertical slopes of this narrow U-shaped valley.Through a large series of hairpins one climbs to the Refugio, all the time having clear and sometimes rather frightening outlooks on the rock faces. The river valley bottom is irregular with sections that are very steep and narrow, and wider, lesser steep sections passing various types of vegetation. With many ferns,bromeliads and orchids, and the Polylepis foresty ( quenual trees) at the higger altitude.
Upon arriving the Refugio start hiking on the footpath at the northern slope , along the lake up to the head of the on the way taking pictures enyoing the lascape around and having our taste box lunch . Finally return on the way to the Refugio where our private transporation is waiting to drive us back to Huaraz – Hotel.
Timing about 10-11 hours full day adventure journey.
What's included?
Services included in the program:
Transportation.
Trekking guide, english speaking for private service.
Basic first aid kit and oxygen bottle.
Not included:
Bus tickets between Lima and Huaraz.
Hotel accommodations for specified time in Lima and Huaraz.
Food during the tour, I recommend you bring a box lunch or snack.
Huascaran National park entrance fee (15 soles peruvians - 30 soles foreigns).
Travel, Personal, and/or medical insurance.
Prices according to number of people Please contact us for more information.
GROUP DEPARTURE PRICE:
12 to 14

participants

(Price x person)

From:

PEN 65
If you book in advance we find the other participants for the date you choice. (Group Service considerate from 14 to 18 participants) We open a new group minimum base on 2.
PRIVATE SERVICE (Exclusive):
Price x person (Peruvian soles)
| | |
| --- | --- |
| 01 person |  PEN 718 |
| 02 people | PEN 361 |
| 04 people | PEN 203 |
| 06 people | PEN 137 |
If you want to take this PRIVATE SERVICE, you can book up to a day before the date (subject to availability).
If you are a group of friends or family of 4 people or more, we recommend that you try to organize your experience in PRIVATE SERVICE, for a better experience.
Group departures programed:
We can start a new departure date based with minimum 2 people.
FAQs?
Hotels, bus before/after trek?
We can also organize transfers, hotels in Huaraz or other cities, packages in the rest of the country etc. If you would prefer more services, from the airport in Lima for example or a complete Peru travel package, please let us know.

How to book the full day?
FIRST: To make a booking, please email us to check availability and receive customized booking form.
All clients will need to fill out a passenger details form. Please be ready with the following information (FROM EACH PARTICIPANT in your group). We need the following information:
Personal information (Full name, exactly as on your passport):
Gender and passport number
Nationality and date of birth.
SECOND: We require a deposit of 50% per person. You can make your payment by VISA/Mastercard/Dinners or another cards (payment link) or Wester Union (request our data).
Important for group departures!
If you book in advance we find the other participants for the date you choice. (Group Service considerate from 14 to 18 participants) We open a new group minimum base on 2.
For booking validation you should deposit a 50% of total price, and rest 50% you pay when you arrive to Peru or Huaraz.
Dear visitors you should know that our company is available to provide wherever information regarding our trip, for detailed information you should request us and we will reply as soon as possible, because we have an expert guide available.
Our trek rates can change according the book time or number of participants, contact with us for more information please.
Information for a better experience during the trek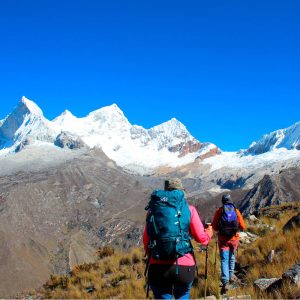 During the treks in Cordilleras Huayhuash or Blanca you will fill your backpack just enough. Clothes, sleeping bag, accessories depending of the tour duration.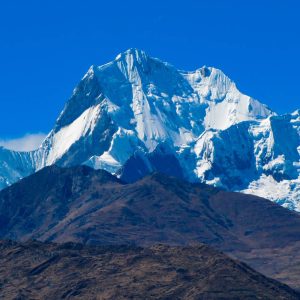 Altitude sickness in Perú? Travel tips
It is important to know what precautions to take before traveling to the Andes of Peru, also because of its geography, Soroche is a possibility.