Santa Cruz trek and Iquitos jungle 2022
Cordillera Blanca and Iquitos trekking package, a tour that combines hiking adventure in Huaraz and Iquitos jungle nature. Trekking tours in Huaraz and Cordillera Blanca and connection to Iquitos via Lima. Visit to Cordillera Blanca trekking + experience in Muyuna Lodge.
Non escorted tour: All tours, hotels, transfers, transport & domestic flights are booked but you do not have a tour guide in the evenings, leisure hours etc. All tours are with English speaking guide and joined with other tourists.
Program details: Trekking Santa Cruz and Iquitos jungle
Day 01: Day bus Lima to Huaraz - Arrival to Huaraz – Night in Huaraz.
Duration: 8 hours (by bus)
Trip by bus Lima to Huaraz, arriving at 21:00 about and then transferred to your hotel. Overnight in Huaraz.
Day 02: Huaraz - Lake Willcacocha (half day hike)
Duration: 20 min (by car) 3 – 4 hours (hiking)
Our guide will pick up you at your hotel after breakfast with our transportation and we'll drive about 20 minutes southeast of Huaraz to the bridge of the Santa Cruz Village where we will start ascending to the lake Willcacocha . The hike is a gradual ascent up on a local trail for about 2 ½ to 3 hours. Along the way you may expect to meet local Quechua people still wearing their traditional colorful Andean clothes. You'll pass close to their traditional adobe houses and see how they have lived for countless centuries surrounded by richly green farm lands where they grow their products as: wheat, corn and potatoes. Upon arriving the lake, you will be amazed with the magnificent views of the Cordillera Blanca mountain range with its highest mountain Huascaran at 6768m/22,205ft. At such a vantage point, you will have the perfect lookout point for enjoying the surrounding breath taking views and shooting some "10 on the drool scale" photos and we have lunch enjoying the panorama view, before we begin our easy descent to the Shansha Village Bridge trailhead. On our way down you'll have the great view of the valley below and of the Cordillera Blanca peaks accompanying you. Our private transportation will be waiting to take back to Huaraz Hotel.Total time of this acclimation journey is approximately 6 hours.
Day 03: Huaraz - Pitec - lake Churup - Huaraz
Duration: 50 min (by car) 5 – 6 hours (hiking)
Drive up on the dirt road to the parking place at Pitec ( not a village , but a few farmhouses),along drive we pass through traditional village of Unchus and Llupa with its traditional adobe houses and reach farmlands, there is opportunity to see local quechua people on their traditional clothes and working land with their hands. Then as we reach Pitec , after checking with the Huascaran National Park range, start ascending following the path over the long ridge. After about 1 ½ you reach a steep an rocky part, to the left of the water fall. From there, you reach lake Churup after a quite intimidating 45 minutes climb. This climb can be a real challenge climb , to avoid this steep part, there is an option to climb more to the left where is a a kind of metal rope that helps to climb. Then as you arrive to the lake will be impressed for the beautiful view of the lake and landscape sourrounded.
Spend time walking around lake side , take pictures, relax and have box lunch enjoying the nature. Then return on the same way back to Pitec , where our transportation waits to drive you back to Huaraz hotel.
Day 04: Huaraz – Cashapampa – Llamacorral (3800m/12464ft)
Duration: 3 hours (by car) 4 – 5 hours (hiking)
Pick up at your hotel in Huaraz.
Drive along the Callejon de Huaylas Valley to the village of Cashapampa 2900m.
There are opportunities for photo stops along the way.
Cashapampa village is the start point for hike to ascend steeply for about 2 hours and then the track levels out.
Camp at Llamacorral (3750m).
Day 05: Llamacorral – Jatuncocha – Taullipampa (4200m/13776ft).
Duration: 5 – 6 hours
Today is an easier hike up the Santa Cruz valley.
This day it is generally flat and we ascend just the last hour towards the camp.
We will pass by the Jatuncocha lake, one of the largest lake during this trek.
Visit the Alpamayo mountain viewpoint (if we have enough time we will go to the base camp Alpamayo and Laguna Arhuaycocha)
Camp at Taullipampa (4250m), surrounded by many peaks such as Paria, Artseonraju, Rinrijirca, Quitaraju and Alpamayo.
Day 06: Taullipampa – Punta Union Pass (4750m/15580ft) – Cachinapampa.
Duration: 7 – 8 hours approx.
This day will be the hardest, since we will ascend to the highest point of the route ( Punta Union pass 4750 mts).
We ascend steadily for about 3 hours on a good trail to the Punta Union Pass 4750m.
We can feel the effects of the altitude as we reach the pass.
From the pass we have very close views of the big mountains of the Cordillera Blanca.
We have a long descent passing two small lakes and then coming down into the Huaripampa Valley.
Camp at Cachinapampa 3700m.
Day 07: Cachinapampa – Vaqueria – Huaraz
Duration: 3 hours (hiking) 4 hours (by car)
An easy walk down the Quebrada Huaripampa Valley where we pass by many farm houses and see a lot of local people, children, sheep, caws, goats and donkeys on the path. We then ascend for about an hour to Vaqueria 3700m 4 hours walk. We take our private transport over Portachuelo Pass 4767m and then down the steep zigzag road to the beautiful lakes of Llanganuco. We then return to Huaraz. About 4 hours drive. Overnight in Huaraz hotel.
Day 08: Bus HUARAZ - LIMA + Overnight in Lima
This morning's bus ride returns you to Lima, with a lunch on the way. You'll arrive in the late afternoon and transfer to the hotel in Lima. Overnight.
Day 09: Flight LIMA - IQUITOS + Transfer to MUYUNA LODGE
Transfer from the Hotel in Lima to the airport
Flight Lima – Iquitos, when you arrive in Iquitos, someone from our staff will wait for you to transfer you to the boarding point and travel up the river to the Muyuna Lodge. Reception at the Lodge lunch and then start with the afternoon activity.
Walk behind the Muyuna, to see the immense variety of flora. Observation of the leoncito, the smallest monkey in the world. Sunset in lagoon
Dinner. Overnight.
Night excursion by boat to see alligators, nocturnal birds and mammals.
Day 10: Muyuna experience day 2.
Breakfast at the Lodge.
Boat trip to Sapote lagoon looking at birds.
Excursion to Moena Lagoon where you will see sloths and monkeys.
Lunch at the Muyuna Lodge.
In the afternoon we will go to Piranha fishing in the Corriente and Purura Lagoons (Optional)
Observation of the hoatzin or shansho, prehistoric bird
Dinner
Night walk in search of huge tarantulas and frogs.
Day 11: Muyuna experience day 3
Breakfast. Walk to the Amazon River to swim where the pink and gray dolphins live
Observation of the Victoria Regia, the largest aquatic plant in the world. Observation of iguanas
Lunch
Canoe excursion through Caño to look for the aullador monkey. Visit to the town of San Juan de Yanayacu
Dinner
Canoe excursion, to listen to the jungle at night
Day 12: Muyuna experience day 4 - Transfer to Iquitos airport.
Breakfast
Boat excursion to Laguna Casha. Here you will walk or paddle depending on the level of the river, looking at different species of birds and monkeys
Lunch
Transfer to Iquitos
Land transfer to the airport for your flight to Lima.
You'll arrive in the night and be transferred to your hotel in Lima or to stay at the airport, depending of your flight ticket to home.
Day 13: Transfer from hotel to airport.
Transfer from hotel to the airport for flight to home. End of services
What's included?
Services included in the prices:
Professional tour guide in English.
Entrance to all the attractions to visit and surrounding areas, churches and museums.
Transfer in every place & cities.
4 nights hotel in Huaraz.
3 nights experience all included in Muyuna Lodge (Iquitos).
Bus tickets from Lima to Huaraz and Huaraz to Lima.
Flight tickets from Lima to Iquitos and viceverse.
All breakfasts at hotels.
Santa Cruz trek includes:
Private transport from/to your hotel.
Professional, English speaking guide in trek.
Professional outdoor cook, 3 healthy meals a day plus snacks during the wilderness components of the trip.
All entrance fees.
All camping & cooking equipment (except sleeping bag).
Donkeys
Cook tent, eating tent, tables, chairs, and toilet tent
First aid kit & oxigen bottle.
Not included:
International flights to/from Lima and applicable airport taxes
Lunches or dinners (unless otherwise specified)
Additional expenses, such as laundry, telephone calls, snacks, etc.
Travel insurance.
Bear in mind:
Unaccompanied package: This package are without accompanying guide: in the evenings and free time, you need to be a bit independent, choose your restaurants, clearing the bill etc. All tours are with English guidance so a good understanding of English is a requirement. Knowing how to say "hello" and "thank you" in Spanish would also be nice. A travel guide (book) will be necessary for background information, restaurants etc..
Full service from Arequipa Airport to Lima Airport. The day of arrival in Peru or the next day we have a briefing to clarify any doubts that may exist, deliver our travel map with vouchers, tickets, etc.
This is an example itinerary only and can be tailored to your individual needs. We can add segments and most packs can be made slightly shorter as well. Please, for any question, contact us with total confidence.
Group departure price:
Price US $ dollars per person
From: US $ --
Prices valid for normal influx season (group tours). These could vary on holidays and festivities (Holy Week, Independence Day of Peru).
If you book in advance, you can access special prices and above all a fully planned trip.
You confirm your trip with the payment of 80% of the total and the rest when you arrive in Peru.
Dear visitors, our company is available to provide you with all the detailed information that you request, we will respond as soon as possible, as we have an expert advisor always available.
Our rates could be special according to the anticipation of your reservation or the number of participants, please contact us for more information.
HOW TO BOOK?
To start the procedures of your reservation, please, we need you to send us the following information:
Full names:
N° of your passport and expiration date:
Nationality:
Date of birth:
Phone and email:
It is very important your information about your flight schedule, to be able to pick it up at the time of your arrival.
To confirm reservations, 50% of the payment is required in advance and the other 50% can be paid upon arrival in Peru.
We have 4 payment options for you to make the deposit:
Paymet with card: We accept all VISA or MASTERCARD credit or debit cards through a link that we will send to your email or WhatsApp, the surcharge by this means is an additional 4.5% (SSL secure system).
Payment via transfer: Our business acount:
International Interbank Deposit
Swift code: BINPPEPL
Banco Internacional del Peru (INTERBANK)
Address: Street Huaylas # 250, Independencia
City: Huaraz Country: Peru
Beneficiary: Romer Alfredo Yauri Camones
Account: 622-312347213-3
IBAN code: 003-622-013123472133-83
(If you transfer from your bank to our bank in Peru, you must add the international transfer charge of the issuing and receiving bank, consult your bank about the additional amount that will be charged).
Payment via Western Union:
Western Union o Money Gram:
Names: ROMER ALFREDO
Surnames: YAURI CAMONES
DNI: 42377569
Adress: Jr. Huaylas Nº 250 – Independencia - Huaraz
Phone:+51 969 005 051
(If you transfer from your bank to our bank in Peru, you must add the international transfer charge of the issuing and receiving bank, consult your bank about the additional amount that will be charged).
Payment via PAYPAL: We generate a payment order and send it to your email; if you accept this option you will have a surcharge of 7%.
¡We are at your service!
What to know?
This package is suitable for those who want to combine magnificent natural and adventour experiences  trekking in the Cordillera Blanca and end up visiting Iquitos jungles and Muyuna Lodge experience (green nature)
The services start from your arrival in Lima, we will pick you up at the airport.
The clothing to bring is according to the season and the activity to be carried out. The sunny months or dry season is from mid-April to October, the days are intensely sunny and the temperature reaches approx. 20°C. but at night it drops abruptly to 5 or 2°C approx. It is recommended to bring light clothing or long sleeves for the day and warm clothes for the nights.
During the rainy season (November to April), it is advisable to bring waterproof clothing and shoes that resist water and cold.
If you plan to develop other activities in the mountains, such as hiking, camping, trekking, cycling, etc. It is recommended to wear the appropriate clothing and/or equipment.
Information for a better experience in Peru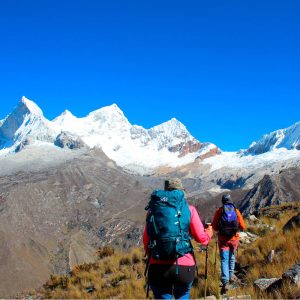 For an even more complete experience you should take into account the following information before traveling to Peru.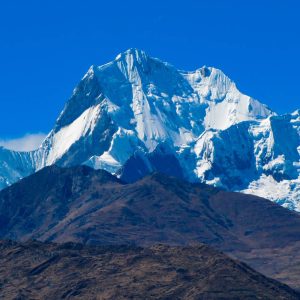 Altitude sickness in Perú? Travel tips
It is important to know what precautions to take before traveling to the Andes of Peru, also because of its geography, Soroche is a possibility.