Climbing tour to Nevado Mateo, a mountain that has a height of 5,150 meters and is technically considered a 5,000 of medium difficulty, all the activity is possible in just 1 day, however, any ascent to a mountain implies certain risks and therefore is requires equipment, guides and hiking experience.
The way to reach the Mateo glacier is rocky and with certain slopes, not suitable for those who suffer from vertigo and it can take 3 to 4 hours to reach the summit, depending on your physical condition.
1 Day.
Easy to moderate.
Meet a day before departure in our office in Huaraz for briefing.
Start: 3:00am in Huaraz.
Finish: 15:00 aprox. in Huaraz.
Best season from April to October
Program details: Climbing Mateo peak
Itinerary:
Between 3:00 and 3:30 am departure from Huaraz and we will drive to the city of Carhuaz where we will take the detour to the Cordillera Blanca via the Ulta Valley to Punta Olímpica for 3 hours. At 5:30 a.m. Approx. after equipping ourselves and receiving a small jay we will begin to ascend the moraine (rocky and vertical path) of the south face of Nevado Contrahierbas - after 2 hours approx. we will arrive at the beginning of the glacier. Here we will equip ourselves with mountaineering implements such as crampons, ropes and ice axes and then ascend the glacier for 1.5 to 2 hours until we reach the summit of Pico Mateo (5150 meters). At the top we will stay for a few minutes and after taking many photographs, we will descend along the same path for approximately 2.5 hours. to the road where our transport awaits us. The return with vehicle will take us 3 hours to the city of Huaraz - end of the tour between 3:00 to 4:00 pm Approx.
What's included?
Services included:
Transportation from Huaraz to Punta Olímpica and back.
Professional specialized Mountain Guide.
Pick up at your hotel (between 3:00 a.m. to 3:30 a.m.).
General climbing equipment (boots, crampons, harnesses, ice axes, helmets, carabiners, ropes.)
Permanent assistance.
Basic first aid kit, if necessary.
Not included:
Entrance tickets to the Huascarán National Park (30 soles per person).
Personal climbing equipment (waterproof jacket, warm jacket, gloves, hats, glasses with UV protection, etc.).
Food during the tour (bring a snack and water, etc.) - It is recommended to bring high-calorie foods.
Carry your personal kit if you take some medicine.
Prices according to number of people Please contact us for more information.
GROUP DEPARTURE PRICE:
3 to 5

participants

(Price x person)

From:

US$ 80
If you book in advance we find the other participants for the date you choice. (Group Service considerate from 5 to 8 participants) We open a new group minimum base on 2.
PRIVATE SERVICE (Exclusive):
Price x person
| | |
| --- | --- |
| 01 person |  US $ 160 |
| 02 people |  US $ 90 |
| 04 people |  US $ 80 |
| 06 people |  US $ 70 |
If you want to take this PRIVATE SERVICE, you can book up to a week before the date (subject to availability).
If you are a group of friends or family of 3 people or more, we recommend that you try to organize your experience in PRIVATE SERVICE, because you only know the health situation of your circle of friends and/or family.
What to know?
To climb Nevado Mateo, we recommend being fully acclimatized, if you come from the coast at least acclimatize 2 days beforehand. See all our tour options in Huaraz.
Not suitable for people under 10 years old and over 55 years old.
Not suitable for people who suffer from vertigo and heart disease.
Steep path over rocks, with steep slopes until reaching the glacier.
Frequent departures from April to October, dry season.
Between the months of November to March it is a time of intense rains, therefore it is not recommended to climb due to the accumulation of snow, but it may be suitable only for determined, experienced and intrepid people.
Important Recommendations:
Enter the Huascarán National Park obtaining the mandatory authorization (entrance ticket).
Respect and follow the instructions of the park ranger and guides.
Do not be in danger, travel only on authorized trails.
Do not collect wild plants or animals.
Stay overnight only in authorized shelters and campsites.
Avoid throwing any kind of garbage. Deposit them only in authorized places or take them outside the Huascarán National Park.
Do not leave the limits of the marked trails, respect and do not damage the signs.
Respect the customs of the local population, take photos when you receive their approval.
Do not enter domestic or exotic animals, it can harm the fauna of the Huascarán National Park.
Be well informed before traveling to the Huascaran National Park about what you can do and where you can go.
Let us take care of the organization and you just enjoy this experience.


Important for group departures!
If you book in advance we find the other participants for the date you choice. (Group Service considerate from 5 to 8 participants) We open a new group minimum base on 2.
For booking validation you should deposit a 50% of total price, and rest 50% you pay when you arrive to Peru or Huaraz.
Dear visitors you should know that our company is available to provide wherever information regarding our trip, for detailed information you should request us and we will reply as soon as possible, because we have an expert guide available.
Our trek rates can change according the book time or number of participants, contact with us for more information please.
Information for a better experience in Huaraz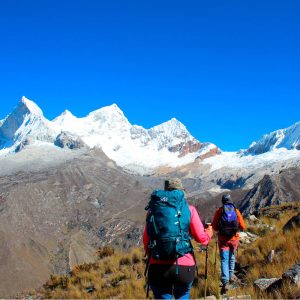 During the treks in Cordilleras Huayhuash or Blanca you will fill your backpack just enough. Clothes, sleeping bag, accessories depending of the tour duration.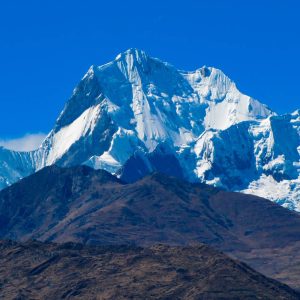 Altitude sickness in Perú? Travel tips
It is important to know what precautions to take before traveling to the Andes of Peru, also because of its geography, Soroche is a possibility.