Trekking Salkantay to Machupicchu 2023
The most classic alternative trek to Inca trail to Machupicchu.
Sakantay is really wonderfull, located less than fifty miles northwest of the city of Cusco. Salkantay is the highest mountain of the Vilcabamba Mountain Range. Because of its proximity to the city, it is easily accessible and is climbed frequently. Join us on this incredible Hiking trip to Machu Picchu. Please book early.
Grade: Moderate to hard. Up to 5-7 hours physical activity each day. Some exposure to heights
Start: 4:30am Cusco
Finish: 18:30 aprox. in Cusco
Departs: All year (but highly recommendable between may to september)

Join a scheduled departure or book a private and custom trip with dates to suit you.
Program details: Trekking Salkantay to Machupicchu
Day 01: Cusco - Mollepata – Challacancha - Soraypampa – Humantay Lake - camp.
Duration: 4 hours (by car) 4 – 5 hours (hiking)
Distance: 7 km approx.
4:30 am Pick up from hotel, by our tourist bus, We´ll travel through the Andes, reaching the village of Mollepata.
Where you can gear up on last minute supplies or anything you may have forgotten back in town (water, rain poncho, bug spray, etc.). Once the horsemen have taken the large packs and all last-minute supplies have been purchased, it's time to start the Trekking.
The "Trekking" on this first day is for the majority of the time simply walking, from Challacancha, next to Inca channel water, above the road that runs all the way back to Soraypampa. While the views are stunning and the trekking occasionally takes a steep shortcut through the cow pastures, the scent of eucalyptus invades you as you head up out of Mollepata and out into the wide open valleys that dominate this section of the Andes, and it feels incredible to breathe the thin, mountain air and slowly slip further back into the middle of nowhere.
Eventually the trekking makes it way all the way to the back of the valley, and the outpost tent settlement of Soraypampa comes into view. Soraypampa is an utterly surreal location. Nestled at the base of towering 3,600 mts or 8,528 fts. Andean peaks such as Mt. Salcantay at 6264 mts or 20551.18 fts, Soraypampa is our protector of Apu Salkantay: windswept, barren, freezing, and utterly enchanting. Most tour companies have covered campsites here to protect campers from the harsh elements, and it's quite easy to fall asleep after a long day of trekking and the sound of the nearby river lapping you into a slumber.
After enjoy a delicious and traditional lunch, we´ll visit the Humantay Lake, the Tea time and the dinner wait for us, before to rest till the day.
Day 02: Soraypampa - Salkantay Pass - Huayrac Machay – Callway (camp in tent).
Duration: 7 – 9 hours
Distance: 16 km approx We wake up early, to taste a delicious breakfast, ready to walk along an extensive pampa called Salkantaypampa, here we are at 3 400m.snm, where we will cross the highest point that is the SALKANTAY pass at 4,650msnm, appreciating the Andes mountain range , where you can appreciate the APU SALKANTAY sacred mountain since Inca times, in addition to impressive avalanches that occur in the place, after contemplating so much beauty we will descend through the mountain, to later taste a lunch, (we will choose the place according to the rhythm of our displacement), then we will continue until reaching Collpapampa instead of our dinner and camp, this is a tropical area, where we already have the presence of mosquitoes, as well as the biodiversity of flora and fauna of the area, we recommend taking the necessary precautions (repellent or others).
Day 03: Callway - La Playa camping.
Duration: 7 – 8 hours
We woke up at 6:45 am, to have our breakfast and continue our walk to Sahuayacocha, chosen place for lunch, observing varieties of orchids and waterfalls of great magnitude, in turn you can see coffee crops, fruit trees, bananas, pomegranate and avocados, in addition to Inca bridges, we can also observe the exotic flora and fauna of the area, finally we will camp in the place called "La Playa". Where we already have the presence of mosquitos, as well as the biodiversity of flora and fauna of the area, we recommend taking the necessary precautions (repellent or others).
Day 04: Playa – Llactapata – Aguas Caliente.
Duration: 5 -6 hours
Distance: 12 km approx.
After a nutritious breakfast we will continue walking for 2 hours where you can observe the flora of the area, then arrive at Lucmabamba being this place where we will take the road to LLACTAPATA, the walk until we reach the archaeological complex with a duration of 2 hours Ascent, after visiting the archaeological complex, we will descend to the place called HIDROELECTRICA, where we will have lunch and free time and then walk to the town of Aguas Calientes for an estimated 2 hours.
This last night we will settle in a hotel, having dinner and overnight, if it is the passenger's preference to spend a fun night in some nightclubs in the area or preferably visit the Thermo-medicinal Waters of Machu Picchu town.
Day 05: Machupicchu tour - train to Ollantaytambo - transport to Cusco.
Duration: 3 hours (hiking) 4 hours (by car)
Today is the most wonderful day, Machupicchu wait for us!!! We´ll catch a bus from Aguas Calientes to Machu Picchu, the buses start running from 5:30-6am. What does this mean? This means that all the people who took the 1st bus are most likely going to get to Machu Picchu before others and be the first enjoying the Sunrise, also well rested and relaxed and with full of energy for climb Huayna Picchu mountain or Machupicchu mountain if you decide it.
Machu Picchu is an incredible spectacle of architecture, culture, and history.
The setting for the ancient city is absolutely stunning, and the feeling of reaching it by foot over 5 days of such intense physical exertion and the swath of rugged terrain that you've since left behind makes the entire moment of standing atop Machu Picchu much more rewarding than had you simply taken a train from Cusco and then a bus to the top.
Overall this journey is highly recommended, just be sure to bring some good rain gear, some really strong bug repellent, and be prepared for an absolute madhouse on the final day of the trek "cause after 10 am thousands of tourist are coming from Cusco in a day trip to Machupicchu.
Ok, so here's the deal with Huayna Picchu. Only the first 400 people who got to the entrance fees can climb Huayna Picchu, the famous little mountain that sits inside of Macchu Picchu. 200 hundred people at 7:00 am and other 200 hundred at 10:00 am. If you want to do it, please let us know at the moment of your reservation.
After to visit machupicchu you will be taking a train to Ollantaytambo and from there; a bus will drive you to Cusco.
End of our Services.
What's included?
Services included in the prices:
Pre-departure briefing: The day before your trek you will have a pre-departure briefing with your tour guide or one of our collaborators, who will explain in detail about the program and itinerary of the following days.
Transport: You will be picked up from your hotel in the morning (between 4:30 to 5:00am) and will travel by private transportation to Mollepata, the starting point of the trek.
Experienced Guide: Spanish/English speaking, professionally educated, and official tour guide. Your guide will explain the culture and surroundings along the entire route! He or she will keep you safe, sound, and comfortable on your trek so that you can enjoy your time worry-free!
Assistant tour guide (for groups of 9 or more people)
Entrance Fee to Machu Picchu.
4 breakfasts, 4 lunches, 4 afternoon snacks, 4 dinners. " Vegetarian (vegan) food on request at no extra cost!
Cook. (Professional)
Drinking water along the Salkantay Trail, only on meal times.
Dining tent with tables and chairs
1st Aid Kit
01 Oxygen Ball
Horses and horse men (to carry tents, food and cooking equipment).
Triple & waterproof camping tent "02 people only"
01 Sleeping Mattress per person.
01 night in touristic hostel in Aguas Calientes "Machupicchu Village".
Return train tickets in Expedition Service (Machupicchu - Ollantaytambo and bus to Cusco) transfer to Hotel.
 
Not included:
Flight from Lima to Cusco and viceverse.
Aclimmatization trips before trek (please ask us for our alternatives)
Hotel accommodations for specified time in Lima and Cusco.
Sleeping Bags: Considered a personal equipment, but you can rent one from our company if you do not have your own. Our sleeping bags are effective and durable to protect from temperatures as low as -10ºC. They are mummy form and include a sleeping liner. The bags are cleaned after every use.
Walking Sticks: You can rent a set from our company if you would like.
Day 1 breakfast and last day dinner in Huaraz city.
Travel, Personal, and/or medical insurance
Personal clothing and gear
Tips for our staff: Please note that our agency staff is well paid so please feel free to tip or not as you wish.
Additional expenses as a result of leaving the tour early or additional expenses as a result of an emergency rescue or evacuation.
Additional costs or delays out of control of the management (landscape, bad weather condition, itinerary modification due to a safety concern, illness, change of government policy, political instability/strike, etc.
Prices according to number of people Please contact us for more information.
GROUP DEPARTURE PRICE:
5 to 8

participants

(Price x person)

From:

US$ 495
If you book in advance we find the other participants for the date you choice. (Group Service considerate from 5 to 8 participants) We open a new group minimum base on 2.
PRIVATE SERVICE (Exclusivo):
Price x person
| | |
| --- | --- |
| 01 person |  US $ 855 |
| 02 people |  US $ 580 |
| 04 people |  US $ 520 |
| 06 people |  US $ 495 |
If you want to take this PRIVATE SERVICE, you can book up to a week before the date (subject to availability).
If you are a group of friends or family of 4 people or more, we recommend that you try to organize your experience in PRIVATE SERVICE, because you only know the health situation of your circle of friends and/or family.
Group departures programed:
We can start a new departure date based with minimum 2 people.
FAQs?
How many days do I need to aclimate in Cusco BEFORE THE TREK?
It is very important to be well acclimated to the altitude before exerting yourself on a trek.
We do recommend that you arrive to Huaraz at least 2 days before the trek starts to help you become acclimatized and avoid possible problems with altitude sickness while on the trek.
We can organize day hikes & other tours around Huaraz for your acclimatization:
Cusco city tour - Half Day Tour
Sacred valley - Full Day Tour
Vinicunca rainbow mountain - Full Day Tour
If you have already been in another area of Peru at high altitude before arriving in Cusco, we still recommend you have a complete day in Cusco to rest, recover from your travel, and enjoy the sights and sounds of Cusco before departing for the trek.
Hotels, bus before/after trek?
We can also organize transfers, hotels in Cusco or other cities, packages in the rest of the country etc. If you would prefer more services, from the airport in Lima for example or a complete Peru travel package, please let us know.
Can you accommodate food sensitivities?
Our cooks are used to dealing with vegetarians. However, other clients and staff may have a conventional diet. Meals are prepared in the same tent and scents of meals can not be avoided. if you do not want to eat your meal in the same tent with clients having a conventional diet, please inquire about a private tour.
How to book theTrek?
FIRST: To make a booking, please email us to check availability and receive customized booking form.
All customers or leader of grup will need to fill out a Passenger details form. Please be ready with the following information:
Personal information (Full name, exactly as on your passport):
Gender and passport number
Nationality and date of birth
Dietary requirements and medical conditions (alergies)
SECOND: We require a deposit of 50% per person in order to purchase a permit for the Huascaran National Park 4 days. You can make your deposit by Paypal, VISA/Mastercard/Dinners or another cards (payment link) or Wester Union (request our data). All subject to transfer fee
Important for group departures!
If you book in advance we find the other participants for the date you choice. (Group Service considerate from 5 to 8 participants) We open a new group minimum base on 2.
For booking validation you should deposit a 50% of total price, and rest 50% you pay when you arrive to Peru or Huaraz.
Dear visitors you should know that our company is available to provide wherever information regarding our trip, for detailed information you should request us and we will reply as soon as possible, because we have an expert guide available.
Our trek rates can change according the book time or number of participants, contact with us for more information please.
Information for a better experience during the trek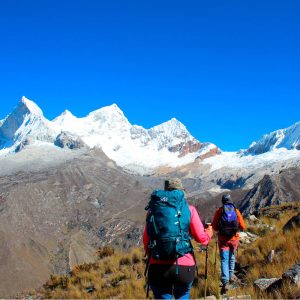 During the treks in Cordilleras of Perú you will fill your backpack just enough. Clothes, sleeping bag, accessories depending of the tour duration.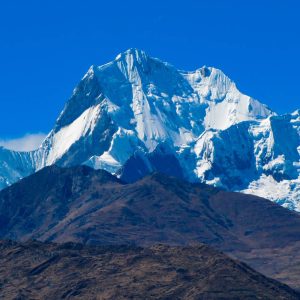 Altitude sickness in Perú? Travel tips
It is important to know what precautions to take before traveling to the Andes of Peru, also because of its geography, Soroche is a possibility.