Alpamayo trek and Climbing Nevado Pisco 2023
Trekking Alpamayo: The Alpamayo trek is a very interesting route because it offers the classic view (north side of the Alpamayo mountain), which is considered one of the most beautiful mountains in the world. The hike wanders through beautiful landscapes composed of snow-covered peaks, lakes and Andean vegetation. It goes through many steps and cozy high Andean villages, whose inhabitants still have a traditional way of life with their ancient customs.

Mountain Pisco: This is a very appealing mountain and a good option for beginners climbers or for acclimatization. Previous experience in mountaineering is not required, though you should be in good physical condition. At the summit (5752 m), you are rewarded with magnificent views of the Cordillera Blanca (White Range), including the 4 peaks of the Huandoys, Alpamayo, Artesonraju, Chacraraju and Chopicalqui. You'll also be able to see North and South Huascaran, the highest mountain in Peru, at 6,768 meters.

Grade: Moderate to hard. Up to 6-7 hours physical activity each day. Some exposure to heights
Duration: 17 days/16 nights
Departs: April to September
Program details: Alpamayo trek and Climbing Pisco
Day 1: Flight to Lima - Lodging in the hotel.
Arrival in Lima – the largest city in Perú; population approximately 11 million. Rest or explore the city on your own. Overnight Hotel.
Day 2: Travel by bus to Huaraz (3100 m) - 400 km/approximately 8 hours
This ride follows the Panamerican highway north across the impressive Pacific coastal desert. Continuing toward higher terrain, we pass through the Cordillera Negra (Black Range) at Conococha Pass (4020 m) into the Santa Valley and Huaraz (3100m.) Once across the pass, you'll see a charming view of the mountains of the Cordillera Blanca, without a doubt some of the most impressive scenery in the world. You can also fly via LCPERU – flight duration 50 minutes. Overnight Hotel.
Day 3: Huaraz - Day Hike to Laguna Willcacocha (3700 m)
Duration: 20 min (by car) 3 – 4 hours (hiking)
Our guide will pick up you at your hotel after breakfast with our transportation and we'll drive about 20 minutes southeast of Huaraz to the bridge of the Santa Cruz Village where we will start ascending to the lake Willcacocha . The hike is a gradual ascent up on a local trail for about 2 ½ to 3 hours. Along the way you may expect to meet local Quechua people still wearing their traditional colorful Andean clothes. You'll pass close to their traditional adobe houses and see how they have lived for countless centuries surrounded by richly green farm lands where they grow their products as: wheat, corn and potatoes. Upon arriving the lake, you will be amazed with the magnificent views of the Cordillera Blanca mountain range with its highest mountain Huascaran at 6768m/22,205ft. At such a vantage point, you will have the perfect lookout point for enjoying the surrounding breath taking views and shooting some "10 on the drool scale" photos and we have lunch enjoying the panorama view, before we begin our easy descent to the Shansha Village Bridge trailhead. On our way down you'll have the great view of the valley below and of the Cordillera Blanca peaks accompanying you. Our private transportation will be waiting to take back to Huaraz Hotel.Total time of this acclimation journey is approximately 6 hours.
Day 4: Huaraz - Day Hike to Laguna Churup (4450 m)
Duration: 50 min (by car) 5 – 6 hours (hiking)
Drive up on the dirt road to the parking place at Pitec ( not a village , but a few farmhouses),along drive we pass through traditional village of Unchus and Llupa with its traditional adobe houses and reach farmlands, there is opportunity to see local quechua people on their traditional clothes and working land with their hands. Then as we reach Pitec , after checking with the Huascaran National Park range, start ascending following the path over the long ridge. After about 1 ½ you reach a steep an rocky part, to the left of the water fall. From there, you reach lake Churup after a quite intimidating 45 minutes climb. This climb can be a real challenge climb , to avoid this steep part, there is an option to climb more to the left where is a a kind of metal rope that helps to climb. Then as you arrive to the lake will be impressed for the beautiful view of the lake and landscape sourrounded.
Spend time walking around lake side , take pictures, relax and have box lunch enjoying the nature. Then return on the same way back to Pitec , where our transportation waits to drive you back to Huaraz. Overnight Hotel.
Day 5: Huaraz - Transfer to Hualcayan (3200 m) - trekking Hualcayan to Wishcash Camp (4320 m)
This is the beginning of the trek around Alpamayo. We travel by vehicle through the Santa Valley and the villages of Carhuaz, Yungay and Caraz until the village of Hualcayan. We meet with our support team and their pack animals.
The first of a total of 8 days of trekking on the Cordillera Blanca tour begins by climbing the winding steep trail to Wishcash camp. In the afternoon we can watch the beautiful sunset over the Cordillera Negra. Overnight Camp.
Day 6: Wishcash - Trekking to Osoruri pass (4860 m) - Ruina Pampa camp (4000 m)
This will be a long and difficult day. We pass by the large nearby lake, Cullicocha, with fantastic views of the Santa Cruz peaks and glaciers, and continue to Osoruri Pass (4,860 m.) After a descent of 400 meters, we climb over Vientunan Pass (4,770 m) and finally drop sharply into the valley of Cedros Alpamayo (Alpamayo Cedars.) After this 8-9 hour day we reach Ruina Pampa Camp (4000 m.) Overnight Camp
Day 7: Ruina Pampa - Trekking to Cruze Alpamayo (4250 m)
A short, scenic stage, amazing because of what is ahead – a beautiful view of Cruze Alpamayo, 4,250 m. Those who wish can climb to Alpamayo Base Camp North (4,500 m) and do an optional summit hike to Jatunjirca Peak (5030 m) allowing you to get above 5000 meters. Fantastic views of Alpamayo (5,947 m) and Quitaraju (6,036 m.)
Alternative: Spend a half day resting in the Cruze Alpamayo Camp, with a beautiful view of Alpamayo. Overnight Camp.
Day 8: Cruze Alpamayo - Trekking to Caracara Pass (4830 m) and Tayapampa Valley (4150 m)
Today we hike over two passes, Caracara (4,830 m) and Mesapata (4,460 m), with spectacular views of the northern part of Alpamayo and the Pucachircas peaks, the northernmost of the 6000 meter peaks in the Cordillera Blanca. Set up camp in the vast flatness of the Tayapampa Valley and then continue to Laguna Safuna (4,200 m) for an afternoon visit. Overnight Camp.
Day 9: Tayapampa - Trekking to over Yanacon Pass (4610 m) to Jancapampa (3600 m)
As we continue our trek, a few kilometers from the valley in a wide open grassland we pass two houses of local farmers, and continue up a steep slope to Pucahirca Pass (4,610 m) followed by a long descent to a lake on the far side of the densely-vegetated Yanajanca Valley. Camp at Jancapampa, directly below the ice walls of the peaks of Pucahirca and Taulliraju. In the area around the camp area there are many local rural folks. Overnight Camp.
Day 10: Jancapampa - Trekking via Tupatupa Pass (4400m) - Laguna Huecrucocha (4050 m)
We set out on the right side of the Jancapampa valley, continuing to Tupatupa Pass and a long descent to the forested Tuctubamba Valley. We stay in large tents with a view of Laguna Huecruncocha (4,050 m). Overnight Camp.
Day 11: Laguna Huecrucocha - Trekking over Alto Pucaraju pass (4640 m) to camping Paria (4250 m)
From Huecruncocha camp, we climb steeply on a rocky trail to the top of the Alto de Pacaraju Pass (4640m). At the pass there are magnificent views of many peaks, and at 5830m the Nevado Taulliraju mountain towers over us. We then have a long descent – initially on switchbacks, then on a sweeping path – down through lupin covered hillside and quenual (polylepis sp.) forest to camp at Paria valley at 3650m. Overnight Camp.
Day 12: Paria - Trekking to the village of Vaquería. Transfer by van over Portachuelo Pass (4650 m). Camping at Cebollapampa (3870 m)
Duration: 3 hours (hiking) 2 hours (by car)
After descending through the forests and whitewater rivers of the Huaripampa Valley, we pass through a typical village of the high Andes, Vaquería. The farmers here raise small animals and some crops. At this elevation there are still flowers, and their colors brighten the landscape. From the village we climb to Portachuelo de Llanganuco Pass, 4650 meters, where you will have fantastic views of several mountains covered in snow. And with a bit of luck, we'll be able to see vicuñas! These timid relatives of llamas graze at elevations of 5500 m; it's not surprising that these animals produce the finest wool in the animal kingdom. From here we take a van to Cebollapampa, the camp at the base of Nevado Pisco. Overnight Camp.
Day 13: Trekking from Cebollapampa to Laguna 69 (4450 m) - Base Camp Pisco (4680 m)
Duration: 5 hours (hiking)
Laguna 69 has been called the most famous and well known lake in the Cordillera Blanca. Our trail winds through picturesque montane forests and a somewhat marshy area, always alongside a steep imposing ridge. Behind us, the fortress-like peak of the ice giant Huascarán looms. Winding trails lead us past several waterfalls to the lake, which is flanked by glacial moraines. Immediately above the deep blue surface of the lake, we see the steep ice walls of Chacraraju, one of the most beautiful, but also most difficult of the 6000 meter peaks in the Cordillera Blanca.
After a little stop and eat our lunch we will continue to the base camp of Pisco. Trought this trail which is one of the routes that is less taken, alternative trails are often not in excellent shape, an unfortunate condition of this alternative hike. Luckily the famous little towers of flat stones indicate the route pretty well. . Overnight base camp Pisco.
Day 14: Base Camp - Climb Nevado Pisco (5752 m) - back to Base Camp.
Duration: 12 hours approx.
A little after midnight we leave Base Camp, climbing up to cross the long moraine to arrive at the glacier. A sharp climb brings us to the saddle of Nevada Pisco. Next the final long climb over the glacier to the peak, 5752 meters in elevation. We are again going to have a magnificent view of the highest mountain in Perú – Huascarán, and also nearby Huandoy, Chopiqualci and many more. Later we descend back to Refugio Peru. Optional: The group can climb to Moraine Camp comfortably in 3 or 4 hours and then return to the refuge or if hikers are not up for the return trip, we can camp on the moraine (4900 m.). Overnight Camp
Day 15: Base Camp - Trekking to Cebollapampa - Transfer to Huaraz.
Our trek is nearing its end. Early in the morning we begin our descent toward Cebollapampa and continue hiking until we arrive at the highway. From there, we take a vehicle to return to Huaraz. Tired and happy, we arrive at the hotel. Overnight Hotel.
Day 16: Transfer to the bus terminal in Huaraz for the trip to Lima. In Lima, transfer to the hotel.
8 Hours by bus to Lima. Overnight Hotel.
Day 20: Stay in Lima - transfer to the airport.
Free day; transfer to airport depending on your flight departure schedule. End of service
Services included:
Pick up at the airport in Lima to the Hotel
Transfer from the Hotel to the airport and bus station
Bus tickets from Lima to Huaraz and viceverse
02 nights hotel in Lima (at the arrival and at the end )
04 nights hotel in Huaraz
Pre-departure briefing: You will meet your guide in you hotel for an orientation before to start the activities.
Transport: You will be picked up from your hotel everyday in the morning and will travel by private transportation to the starting point of the trek and also private transport from the end of tour to the hotel.
Experienced Guide: English speaking, professionally educated, and official tour guide. Your guide will explain the culture and surroundings along the entire route! He or she will keep you safe, sound, and comfortable on your trek so that you can enjoy your time worry-free!
Professional certified mountain guide for climbing tour Pisco.
All camping & cooking equipment (sleeping, Dining and kitchen tents, tables, chairs, and cooking equipment (all carried by the donkeys).
Colective climbing equipment (such as rope, ice axes, crampons, helmet, harness)
Cargo Mules: For to carry the all camping equipment and your allowance of personal baggage (8 kgs), this does not include climbing equipment, which can be transported on the last day of the Santa Cruz trek.
Trekking Cook: A chef specialized in cooking on the trail, with an assistant (if the group is more than 8 people), will prepare all of your delicious meals along the journey to replenish your energy. You will never go hungry!(Vegetarian or special menus are available at no extra cost)
Wake up tea: Every morning at the campsite, you will woken up with a cup of coca tea! Our staff will bring the tea to your tent so that you will be warmed from inside out before you start your day.
Tea time daily: Every afternoon before dinner, the cook will provide popcorn, biscuits, coffee, hot chocolate, teas, hot water, etc. After a long day of hiking, you will not have to wait until dinner to relax, warm up, and enjoy a bite to eat!
Snacks on the trail daily: Our snacks consist of local fruits, biscuits, chocolate, caramels, etc. We will give this snack to you at the beginning of each day in your cloth bag.
Entrance fee to Huascaran National Park
Medical kit: Our crew will bring a first-aid kit, including emergency oxygen bottle.
Transport: Private transport from Vaqueria to your hotel in Huaraz (day 4)
Not included:
International flights to Lima / Peru round trip
Transfer from the airport for bookings of individual flights with different times of arrival / departure
Exit tax at the airport in Lima
Travel accident and health insurance
Luggage insurance and trip cancellation
Meals in restaurants in Lima and Huaraz
Personal equipment (such as boots, sleeping bag, Goretex, etc.)
Additional expenses as a result of leaving the tour early or additional expenses as a result of an emergency rescue or evacuation.
Additional costs or delays out of control of the management (landscape, bad weather condition, itinerary modification due to a safety concern, illness, change of government policy, political instability/strike, etc.)
Prices according to number of people Please contact us for more information.
GROUP DEPARTURE PRICE:
5 to 8

participants

(Price x person)

From:

US$ --
If you book in advance we find the other participants for the date you choice. (Group Service considerate from 5 to 8 participants) We open a new group minimum base on 2.
PRIVATE SERVICE (Exclusivo):
Price x person
| | |
| --- | --- |
| 02 person |  US $ -- |
| 04 people |  US $ -- |
| 06 people |  US $ -- |
| 08 people |  US $ -- |
If you want to take this PRIVATE SERVICE, you can book up to a week before the date (subject to availability).
If you are a group of friends or family of 4 people or more, we recommend that you try to organize your experience in PRIVATE SERVICE, because you only know the health situation of your circle of friends and/or family.
FAQs?
How fit do I need to be to Trek or Climb in Peru? For trekking,
it is not necessary to be "super fit", but you do need to be of generally good fitness and a regular walker. You need to be able to hike continuously uphill (sometimes steep) for 2 to 2½ continuous hours with rest stops to reach the top of a pass. Total walking time in a day varies from 3 or 4 hours to up to 7 hours for moderate treks and the hard treks can be up to a 9 hour day.
For climbing
you need have good aerobic fitness and be generally strong, and it is important to be well acclimatized. On many of the climbs, you have to carry your equipment with sleeping bag, mattress, clothes up to a high camp in a backpack and you need to be strong enough to manage this.
Hotels, bus before/after trek?
We can also organize transfers, hotels in Huaraz or other cities, packages in the rest of the country etc. If you would prefer more services, from the airport in Lima for example or a complete Peru travel package, please let us know.
Can you accommodate food sensitivities?
Our cooks are used to dealing with vegetarians. However, other clients and staff may have a conventional diet. Meals are prepared in the same tent and scents of meals can not be avoided. if you do not want to eat your meal in the same tent with clients having a conventional diet, please inquire about a private tour.
How to book the tour?FIRST:
To make a booking, please email us to check availability and receive customized booking form.
All clients will need to fill out a Passenger Details form. Please be ready with the following information (FROM EACH PARTICIPANT in your group). We need the following information:
Personal information (Full name, exactly as on your passport):
Gender and passport number
Nationality and date of birth
Dietary requirements and medical conditions (alergies)
SECOND:
We require a deposit of 50% per person in order to purchase a permit for the Huascaran National Park 4 days. You can make you deposit by VISA/Mastercard/Dinners or another cards (payment link) or Wester Union (request our data).
Important for group departures!
If you book in advance we find the other participants for the date you choice. (Group Service considerate from 5 to 8 participants) We open a new group minimum base on 2.
For booking validation you should deposit a 50% of total price, and rest 50% you pay when you arrive to Peru or Huaraz.
Dear visitors you should know that our company is available to provide wherever information regarding our trip, for detailed information you should request us and we will reply as soon as possible, because we have an expert guide available.
Our trek rates can change according the book time or number of participants, contact with us for more information please.
Information for a better experience during the trek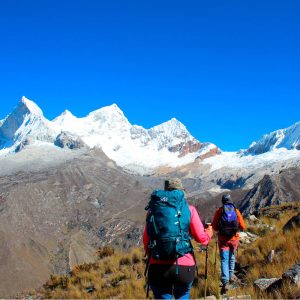 During the treks in Cordilleras Huayhuash or Blanca you will fill your backpack just enough. Clothes, sleeping bag, accessories depending of the tour duration.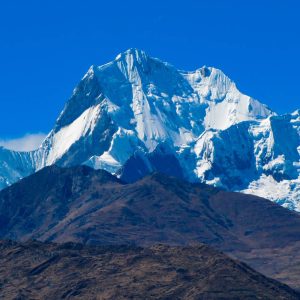 Altitude sickness in Perú? Travel tips
It is important to know what precautions to take before traveling to the Andes of Peru, also because of its geography, Soroche is a possibility.