Cedros Alpamayo trek 2023
The most spectacular trekking route in the Andes.
This trek is a short version of the well-known Alpamayo Circuit in the Cordillera Blanca. It is ideal for those who are short of time during a vacation but still look forward to hiking to the Alpamayo Base Camp through the Cedros Valley. This circuit features the view of the astonishing peaks of the Cordillera Blanca including the famous Alpamayo, considered by mountaineers as the most beautiful mountain in the world because of its pyramidal shape. On this trekking circuit there are many colorful glacier lakes with impressive mountain views from the high passes, farmlands and traditional Andean villages to enjoy the unique experience of meeting and interacting with the local Quechua people dressed in there native traditional colorful clothes.
 9 Days/8 Nights
 Moderate to hard. Up to 5 – 7 hours physical activity each day. Some exposure to heights
The guide will meet you the day before departure in Huaraz to do a full gear check and briefing.
 Start: 6:00am Huaraz
 Finish: 14:00 aprox. in Huaraz
 Best season: April to October
Program details: Trekking Cedros Alpamayo
Day 01: Huaraz - Vaqueria - Paria
Duration: 4.5 hours (by car) 4 hours (hiking)
Pick up at your hotel with our private transportation
Drive north from Huaraz along the Callejon de Huaylas passing traditional towns in the valley with astonishing views of the peaks of the Cordillera Blanca.
Then we reach Yungay the town from where we drive up on the dirt road through the beautiful Llanganuco valley and one of the main entry points into the Huascaran National Park.
We continue up the valley passing the two Llanganuco Lakes (Chinancocha and Orconcocha)
Stop at the viewpoint Portachuelo Pass (15,617ft / 4760m), here we obtain amazing panoramic views of the white-capped peaks of the Cordillera Blanca.
At the top of the pass we'll stop to take photos of the peaks of Huascaran, Huandoy, Pisco and Chacraraju.
Drive down to Vaqueria (11,811 ft / 3600m) where our arrieros and donkeys wait to load our gear.
In Vaqueria start our relaxing hike, leaving the road behind. We pass farmer's plots with small houses and cattle herds.
We continue hiking on a gently gradually path to our first camp at Paria (11,975 ft / 3650m).
Day 02: Paria – Alto Pucaraju pass (4640m) – Quisuar (3900m/12792ft).
Duration: 7 – 8 hours
Distance: 11 km aprox
From Paria camp, we climb steeply on a rocky trail to the top of the Alto de Pacaraju Pass (4650m).
At the pass there are magnificent views of many peaks, one of is Nevado Taulliraju (5830m)
Then we have a long descent – initially on switchbacks, then on a sweeping path – down through lupin covered hillside and quenual (polylepis sp.
Little stop for lunch near the lake Huecrococha (3950m).
Camp in the left side of the small village called Quisuar (3900m/12792ft).
Day 03: Quisuar – Tupatupa pass (4400m) – Jancapampa.
Duration: 5 – 6 hours aprox
Distance: 10 km aprox
After reakfast we will climb gradually, then more steeply to the Tupatupa pass (4400m)
From the pass we will with views back to several big snow capped peaks of the Cordillera Blanca, for example Pucajirca north (6050m)
Descend to our next camp at the top of a wide valley called Jancapampa (3600m).
Directly behind camp we have views of a huge hanging glacier releasing waterfalls down a broad, horseshoe-shaped wall of granite hundreds of metres high.
A lot of farming families lives in the valley, and we will be visited at camp by some of the friendly local people and curious, happy children.
Day 04: Jancapampa - Yanacon pass - Safuna or Huillca camp.
Duration: 7 hours
Distance: 14 km aprox
We start with a long climb – gradual in parts, steeper in others – up a forested valley with occasional clearings, to the beautiful Sactaycocha lake.
From Lake Sactaycocha, now amid grassy shrubland, we climb steeply to the top of the rocky Paso Pucajirca pass (4600m).
On a clear day, the awesome Pucajirca Norte can be seen rising steeply to the southwest.
We descend to camp at Safuna in the Quebrada Tayapmapa (4200m).
Passing a large Alpaca flock is our camping area. This day was a long day.
Day 05: Safuna - Mesapata pass - Cara Cara pass - Cruce Alpamayo.
Duration: 6 hours aprox
Distance: 10 km aprox
We will cross two passes today.
The first is via a gradual, grassy ascent to the Mesapata Pass (4500m).
We then enjoy a long traverse, skirting around swamplands, and continue with a steep climb to the high and sometimes windy Cara Cara pass (4830m).
From here we get our first great views of the pyramid shaped Alpamayo (5947m), and Laguna Jancarurish lake directly below us.
We descend to camp below the majestic Alpamayo at the camp named cruce Alpamayo (4150m).
Day 06: Extra day Cruce Alpamayo for Rest or Side Trips and to Enjoy Panoramas.
Duration: 4 hours to viewpoint Alpamayo (go & back)
We spend another night at cruce Alpamayo camp to greater appreciate the beauty of Alpamayo.
Climb up the nearby moraine overlooking the Laguna Jancarurish glacial lake for close-up views of the Alpamayo and Jancarurish (5601m) peaks (3 hour return trip from camp).
If you feel energised, you can continue upwards and onwards towards Alpamayo base camp (4500m).
If you prefer, you can simply rest in camp.
Day 07: Cruce Alpamayo - Ruinapampa - Osoruri camp.
Duration: 4 hours aprox
Distance: 7 km aprox
Today we take it easy with a relaxing hike, initially descending down the valley Quebrada Los Cedros for 2 hours until Ruinapampa
After to ascend for a zig zag path to our secluded campsite on Osoruri camp, a plateau away from the main trail (4400m).
From the camp we can admire the jagged peaks of Milluacocha & Tayapampa.
Day 08: Osoruri camp - Osoruri pass - Vientunan pass - lake Cullicocha.
Duration: 6 hours aprox
Distance: 9 km aprox
This is a hard day with two big passes to cross.
We start with a long climb towards the south on a well-used trail to the Paso Vientunan pass (4770m).
Then we descend for about 150 metres and climb again to a second pass, Paso Osoruri also called Cullicoch (4860m).
As we begin our descent, there are fabulous views of the surrounding mountains, especially the magnificent triple summit of Santa Cruz (6259m).
We camp at the crystal blue Laguna Cullicocha lake (4650m); from the camp we have a phenomenal view of Santa Cruz at the top of the lake.
Day 09: Long descent to Hualcayan village. Vehicle to Huaraz.
Duration: 5 hours (hiking), 3 hours (by transport)
Distance: 11 km aprox
It's a long downhill from here all the way from Laguna Cullicocha via switchbacks and traverses to the last.
Long zig -zag track down to the village of Hualcayan (2900m)
In Hualcayan our private van will be waiting for us to drive for about 4 hours 116 kms back to Huaraz.
What's included?
Services included in the prices:
Pre-departure briefing: You will meet your guide and group in our office for an orientation before your trek. The meeting will be at the afternoon before the trip begins.
Transport: You will be picked up from your hotel in the morning and will travel by private transportation to the starting point of the trek.
Experienced Guide: English speaking, professionally educated, and official tour guide. Your guide will explain the culture and surroundings along the entire route! He or she will keep you safe, sound, and comfortable on your trek so that you can enjoy your time worry-free!
All camping & cooking equipment (sleeping, Dining and kitchen tents, tables, chairs, and cooking equipment (all carried by the donkeys).
Cargo Mules: For to carry the all camping equipment and your allowance of personal baggage (6 kgs/13.2 lbs).
Trekking Cook: A chef specialized in cooking on the trail, with an assistant (if the group is more than 6 people), will prepare all of your delicious meals along the journey to replenish your energy. You will never go hungry!.
Meals: 8 Breakfasts, 9 Lunches, 8 Dinners (Vegetarian or special menus are available at no extra cost).
Wake up tea: Every morning at the campsite, you will woken up with a cup of coca tea! Our staff will bring the tea to your tent so that you will be warmed from inside out before you start your day.
Tea time daily: Every afternoon before dinner, the cook will provide popcorn, biscuits, coffee, hot chocolate, teas, hot water, etc. After a long day of hiking, you will not have to wait until dinner to relax, warm up, and enjoy a bite to eat!
Snacks on the trail daily: Our snacks consist of local fruits, biscuits, chocolate, caramels, etc. We will give this snack to you at the beginning of each day in your cloth bag.
Entrance fee to Huascaran National Park
Medical kit: Our crew will bring a first-aid kit, including emergency oxygen bottle.
Transport: Private transport from end of trek to your hotel in Huaraz.
Not included:
Hotel accommodations for specified time in Lima and Huaraz.
Sleeping Bags: Considered a personal equipment, but you can rent one from our company if you do not have your own. Our sleeping bags are effective and durable to protect from temperatures as low as -10ºC. They are mummy form and include a sleeping liner. The bags are cleaned after every use and have a maximum usage of 30 trips.
Walking Sticks: You can rent a set from our company if you would like.
Day 1 breakfast and last day dinner in Huaraz city.
Travel, Personal, and/or medical insurance
Personal clothing and gear
Tips for our staff: Please note that our agency staff is well paid so please feel free to tip or not as you wish.
Additional expenses as a result of leaving the tour early or additional expenses as a result of an emergency rescue or evacuation.
Additional costs or delays out of control of the management (landscape, bad weather condition, itinerary modification due to a safety concern, illness, change of government policy, political instability/strike, etc.)
Prices according to number of people Please contact us for more information.
GROUP DEPARTURE PRICE:
6 to 8

participants

(Price x person)

From:

US$ 720
If you book in advance we find the other participants for the date you choice. (Group service considerate from 6 to 8 participants) We open a new group minimum base on 2.
PRIVATE SERVICE (Exclusivo):
Price x person
| | |
| --- | --- |
| 01 person |  US $ 1840 |
| 02 people |  US $ 1040 |
| 04 people |  US $ 845 |
| 06 - 08 people |  US $ 720 |
If you want to take this PRIVATE SERVICE, you can book up to a week before the date (subject to availability).
If you are a group of friends or family of 4 people or more, we recommend that you try to organize your experience in PRIVATE SERVICE, because you only know the health situation of your friends and/or family.
Group departures programed:
We start a new departure date based with minimum 2 people. HERE OUR DEPARTURES
FAQs?
How many days do I need to aclimate in Huaraz BEFORE THE TREK?
It is very important to be well acclimated to the altitude before exerting yourself on a trek. We do recommend that you arrive to Huaraz at least 2 or 3 days before the trek starts to help you become acclimatized and avoid possible problems with altitude sickness while on the trek.
We can organize day hikes & other tours around Huaraz for your acclimatization:
Laguna Willcacocha Trek - Half Day Tour
Laguna 69 trek - Full Day Tour
Laguna Churup trek - Full Day Tour
If you have already been in another area of Peru at high altitude before arriving in Huaraz, we still recommend you have a complete day in Huaraz to rest, recover from your travel, and enjoy the sights and sounds of Huaraz before departing for the trek.
Hotels, bus before/after trek?
We can also organize transfers, hotels in Huaraz or other cities, packages in the rest of the country etc. If you would prefer more services, from the airport in Lima for example or a complete Peru travel package, please let us know.
Can you accommodate food sensitivities?
Our cooks are used to dealing with vegetarians. However, other clients and staff may have a conventional diet. Meals are prepared in the same tent and scents of meals can not be avoided. if you do not want to eat your meal in the same tent with clients having a conventional diet, please inquire about a private tour.
How to book the trek?
FIRST: To make a booking, please email us to check availability and receive customized booking form.
All customers or leader of grup will need to fill out a Passenger details form. Please be ready with the following information:
Personal information (Full name, exactly as on your passport):
Gender and passport number
Nationality and date of birth
Dietary requirements and medical conditions (alergies)
SECOND: We require a deposit of 50% per person in order to purchase a permit for the Huascaran National Park 4 days. You can make your deposit by Paypal, VISA/Mastercard/Dinners or another cards (payment link) or Wester Union (request our data). All subject to transfer fee
Important for group departures!
If you book in advance we find the other participants for the date you choice. (Group Service considerate from 5 to 8 participants) We open a new group minimum base on 2.
For booking validation you should deposit a 50% of total price, and rest 50% you pay when you arrive to Peru or Huaraz.
Dear visitors you should know that our company is available to provide wherever information regarding our trip, for detailed information you should request us and we will reply as soon as possible, because we have an expert guide available.
Our trek rates can change according the book time or number of participants, contact with us for more information please.
Information for a better experience during the trek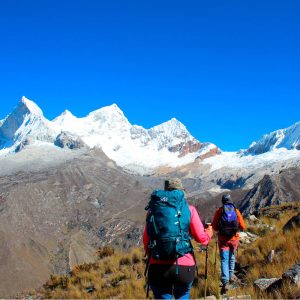 During the treks in Cordilleras Huayhuash or Blanca you will fill your backpack just enough. Clothes, sleeping bag, accessories depending of the tour duration.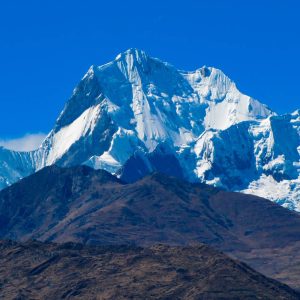 Altitude sickness in Perú? Travel tips
It is important to know what precautions to take before traveling to the Andes of Peru, also because of its geography, Soroche is a possibility.