Inca Trail to Machupicchu trek 2023
Inca trail trek to Machupicchu, on a road with landscapes of indescribable Andean beauty, crosses throughout the days that this adventure lasts, archaeological sites that can only be reached by it. Finally to crown the trek the great experience of visiting Machupicchu entering through the great Inti Punku (The Gate of the Sun). This trek is highly required, you must book well in advance.
Grade: Moderate to hard. Up to 5-7 hours physical activity each day.
Start: 4:30am Cusco
Finish: 18:30 aprox. in Cusco
Departs: March to January (but highly recommendable between April to October)
Join a scheduled departure or book a private and custom trip with dates to suit you.
Program details: Inca Trail trek
Day 01: Transfer Cusco to Km 82 - Hike to Huayllabamba
Duration: 2.5 hours (by car) 6 hours (hiking)
Distance hiking: 12 km approx.
Our journey to Machu Picchu through the classical Inca trail begins at your hotel, from where you will be picked up after the breakfast (optional) around 6:00 – 6:30. From your hotel you will have a transfer 2 – 2.5 hours with your guide to our starting point which is called km 82. At the starting point you need to show your Inca Trail permission card, your original passport, and your ISIC card if you have one.Here the Inca Trail begins and we will start hiking for 2 hours to Miskay, where we are going to enjoy a nice lunch. The hike to Miskay is a flat and a beautiful walk, where we can enjoy the incredible flora of the landscape around us.
After the lunch we are going to have another two hours hike to Wayllabamba (3.000 m.) which will be our camping spot. We will arrive there at 5:00 pm in the afternoon, and we will enjoy a nice dinner from our personal professional chef at 6:30 pm. After the dinner we will settle down for the night.
Day 02: Huayllabamba - Dead Woman´s pass - Pacaymayo camp
Duration: 7 hours approx
Distance: 14 km approx
At the second day the guides wakes us up at 5:30 with warm tee, so we can get a good start of the day at the Inca trail and we will eat breakfast at 6:00. Our first hike of this day begins at 6:30 and it will take around 5 hours (7 km) to get from our camp to the high spot which is called dead woman pass (4.600 m), where you can experience the female spirit, a woman that lives on the side of the mountain.
From this place we have a 2 hour hike down to our second camping spot (Pacamayu 3,600 m), where we finally will have our lunch after 7 hours of hiking in total on the Inca trail. At the camp we will rest and around 6.30 we will have dinner. Later we will get comfortable under our blankets, so we can stay warm for the cold night.
Day 03: Runkqurakay – Phuyupatamarka – Wiñnahuayna
Duration: 6 hours approx.
Distance: 12 km approx.
We get up at 6:00 am and breakfast will be served by the chef at 6:30. At 7:00 we will start hiking. This day is a very special and beautiful day where we will pass 3 Inca ruins along the Inca trail. To get to the first Inca ruin Runkqurakay (3.800 m.), we have to hike one hour up; thereafter we have another hour of walking to the second high spot, Runku Pass (4.000 m.). After the second Inca ruin it will get easier, from there we will walk down for 45 m. to Sayacmarka (3580 m.).
After the visit we will have 25 min. to chakicoccha (3.600 m) where we will enjoy our lunch in natural surroundings and incredible landscape. After the lunch we have a one hour hiking to Phuyupatamarka (3.60 m), which is the last hike on the Inca trail of this day. On this place we can find the last Inca construction for today.
From this point we will have an easy two hour walk down to Wiñnahuayna (2.600 m), where we will settle our camp and our chef will make a nice buffet to everyone so we can say goodbye to the chefs and the porters in a very nice way at 6.30. If you still have energy left after the hike, you can visit the archaeological site of Wiñay Huayna, only 5 minutes from our camp spot, a really delightful site on the Inbca trail with a lot of terraces and ruins.
Day 04: Sun Gate - Machu Picchu - The Lost City Of The Incas.
Duration: 4 hours (hike and visit Machupicchu), 2 hours (by train), 2 hours (by transport)

On the last day we get up very early 3:30 and eat breakfast at 4:00. After the breakfast we begin hiking to the first checkpoint which opens at 5:30. After the checkpoint we have one hour of hiking to the Sun gate (Inti punku), from where we will have great views of Machu Picchu and all the surrounding mountains. Here we will have 20 min. to rest. Thereafter we have 10 min. down to the lost city of the Incas; Machu Picchu. Here the Inca trail ends and we will enter the wonder of Machu Picchu. At the city, we have to pass the second checkpoint for leaving our bags and it will cost you 3 soles for every back, which is necessary.
There you will also need to show your passport, the ticket and the ISIC card if you have one. Thereafter your guide will show you around the Machu Picchu and the different important sites, ruins and temples of the site from 8:00 to 10:00. After the tour you will have some free time to explore the city, its many different roads and its beautiful surroundings. After you have enjoyed the magnificent city of the Incas you have to use your bus ticket to get down to Aguas Calientes and then take the train back to Cusco via Ollantaytambo. The "expedition train" leaves at 6.30 in the evening and arrives at Ollantaytambo after 2 hours. At Ollantaytambo there will be a bus waiting for you to take you back to Cusco. Here your journey will end at 10:30 in the night.
What's included?
Services included in the prices:
Transfers In / Out.
Pre-departure briefing: You will meet your Inca Trail guide and group in our office for an orientation before your trek, one or two days before the tour.
Transport picked up from your hotel in Cusco to Piscacucho, the starting Inca Trail trek.
English and Spanish speaking Professional Guide for Inca Trail trek and Machupicchu.
Guided visit to Machu Picchu and the ruins along the trail.
Entrances tickets to Inca trail and Machu Picchu.
3 breakfasts, 3 lunches, 3 snacks, 3 dinners – Vegetarian food, or other diet requirements can be arranged with no further charge.
Professional cook.
3 Camping nights.
Medical kit and Oxygen bottle.
Camping equipment (2 person tents, mattresses, Cooking equipment, tables and chairs).
Porters / Horses (who carry tents, food and cooking equipment).
Bus ticket from Machu Picchu ruins to Aguas Calientes (one way)
Train tickets (EXPEDITION): Aguas Calientes to Ollantaytambo train station.
Transfer back to Cusco.
24-hour guest service: Telephone service available 24 hours/day.
Free luggage store at our office in Cusco.
Not included:
First breakfast before the transfer on the first day – lunch at the last day at Aguas Calientes.
Sleeping Bags. USD 25.00
1 Duffle Bag: You can put your personal luggage, up to 7 kgs (15.43 lbs.) USD 80.00 (this bag will be carried by our porters)
Tips are not included but it is optional.
Additional costs or delays out of control of the management (landscape, bad weather condition, itinerary modification due to a safety concern, illness, change of government policy, political instability/strike, etc.)
.
Prices according to number of people Please contact us for more information.
Inca Trail classic service:
Price per person

From:

USD 649
Add USD 75 for to visit Huayna Picchu or Machupicchu mountain.
Inca Trail confortable service:
Price per person

From:

USD 779
Additional to the classic includes: Extra Porter to carry your personal belongings up to 5kls + O.W + Return train in Vistadome Panoramic service.
Add USD 75 for to visit Huayna Picchu or Machupicchu mountain.
Discounts:
With an ISIC card you can get a discount (US$ 20) of the Inca Trail; you need to scan and send it to us at the time of your booking.
If you are under 17 years old, you can get a discount (US$ 20) of the Inca trail; you have to scan and send you passport to us at the time of your booking.
Whats to bring?
You should bring your original passport (International Student card (ISIC) if applicable)
Walking boots
Waterproof jacket/rain jacket
Warm jacket, hat and gloves
T-shirts
Comfortable trousers
Sun hat
Sunglasses
Sun protection cream (factor 35 recommended)
Re-usable plastic or metal water container or camel bags
Water for the first day, but on the way it is possible to buy bottles of water from local families.
Insect repellent
Toiletries
Personal medication
Camera and films
Shorts
Walking stick (with rubber tip)
Plasters and bandages
Sandals
Baiting suit for the hot springs
Extra money for personal expensive, tips and entrance fees for hot springs (entrance fee for the hot spring is: US$ 4 / 10 Soles).
Information for a better experience during the trek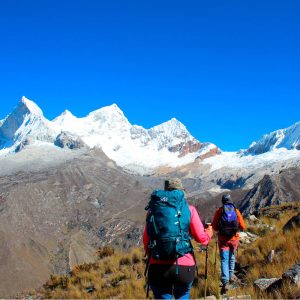 During the treks in Cordilleras of Perú you will fill your backpack just enough. Clothes, sleeping bag, accessories depending of the tour duration.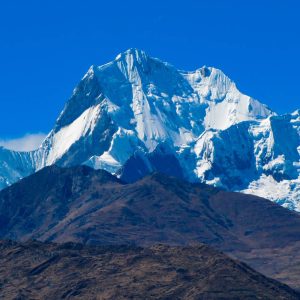 Altitude sickness in Perú? Travel tips
It is important to know what precautions to take before traveling to the Andes of Peru, also because of its geography, Soroche is a possibility.